By Catherine Roy
Apr
01,
2019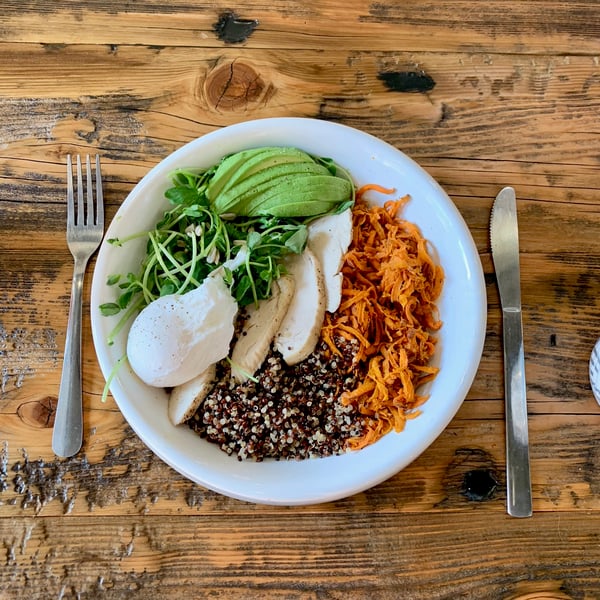 Recently we revamped our recipes to help you get the most nutritional bang for your buck. Our aim has always been to bring you recipes that both your taste buds and biomarkers will enjoy. However, we are constantly looking for ways to help you optimize your health, so we set out to design an even more targeted recipe selection.
Our nutrition team modified the current InsideTracker recipes to make them even better and added over 80 new recipes to the database.
Some new additions you can look forward to seeing in your profile including, Tuscan Salmon with Vegetables, Green Tea Smoothie, Toasted Trail Mix, and Nutty Hazelnut Salad. Can you say yum?
How We Make InsideTracker Recipes
If you have internet access, you've probably searched on Google for a recipe at least once. You might have dealt with some analysis paralysis from the search results, too. A simple search for "chicken recipe" returns 911 MILLION hits! That's a lot of chicken. So what criteria do you use to make your final selection?
At InsideTracker, we care the most about flavor and impact on health. What makes InsideTracker recipes different from the ones you can find online? We've specifically built them with your biomarkers in mind. Every InsideTracker biomarker is associated with at least one nutrient that can improve it. For example, healthy fats help to improve your inflammation group and soluble fiber helps to improve your cholesterol group. We determine the best ingredients and, most importantly, the specific amounts of these ingredients that will have the biggest impact on your markers.
The table below gives you a better idea of what nutrients are good for your biomarkers.
| | | | |
| --- | --- | --- | --- |
| Biomarker | Nutrient #1 | Nutrient #2 | Nutrient #3 |
| Inflammation Group | Fiber | Polyunsaturated Fat | Magnesium |
| Sugar Group | Fiber | Polyunsaturated Fat | |
| Liver Enzymes Group | Vitamin E | Protein | |
| Lipid Group | Fiber | Polyunsaturated Fat | |
| Testosterone Group | Magnesium | Protein | |
| Cortisol | Polyunsaturated Fat | Magnesium | |
| Creatine Kinase | Protein | | |
| Iron Group | Iron | | |
| Vitamin B12 | Vitamin B12 | | |
| Vitamin D | Vitamin D | | |
To help you get the nutrients you need, InsideTracker recipes have at least 20% of the Recommended Daily Allowance (RDA) of the nutrients you need.
What's the RDA? It's the amount of a nutrient that covers the needs of 97% of the population.1 That means that if a recipe is good for your iron group, it must contain at least 20% of the RDA for iron. Likewise, for a recipe to be recommended for your liver enzyme group, it must contain at least 20% of the RDA for vitamin E.
New and Improved Display
We are proud of our recipes. And we know they are helpful to InsideTracker users and we've had great feedback on them. In an effort to showcase even more recipes we've decided to replace your singular featured recipe with a carousel of recipes on your Action Plan! This carousel will feature up to 10 recipes specifically chosen for you based on the unique combination of your chosen goal and unoptimized biomarkers. Talk about personalization!
We've told you a lot about our recipes and how we create them, but how exactly will these recipes be selected for you?
First, our system will identify the unoptimized biomarkers that are associated with your goal. Next, our system will scan our recipe database and select the recipes supercharged with the nutrients that will help improve your biomarkers. Then the recipes will be ordered based on how many of your biomarkers they improve. The top recipes will make their way into your unique recipe carousel helping you get the most out of your nutrition.
Our overall goal is to provide you with recipes that will improve as many of your biomarkers as possible. As we said before, we want to give you the most nutritional bang for your buck!
Let us know what you think about the updated features, and in the meantime, click below for our Super Recipe E-Book. It has superhero nutritional power, well, for your biomarkers it does.

Some other blog posts we think you'll love:


References
1. U.S. Food and Drug Administration. How to Understand and Use the Nutrition Facts Label. https://www.fda.gov/food/labelingnutrition/ucm274593.ht
2. Wartella EA, Lichtenstein AH, Boon CS. (2010). Front-of-Package Nutrition Rating Systems and Symbols: Phase I Report.
National Academies Press.