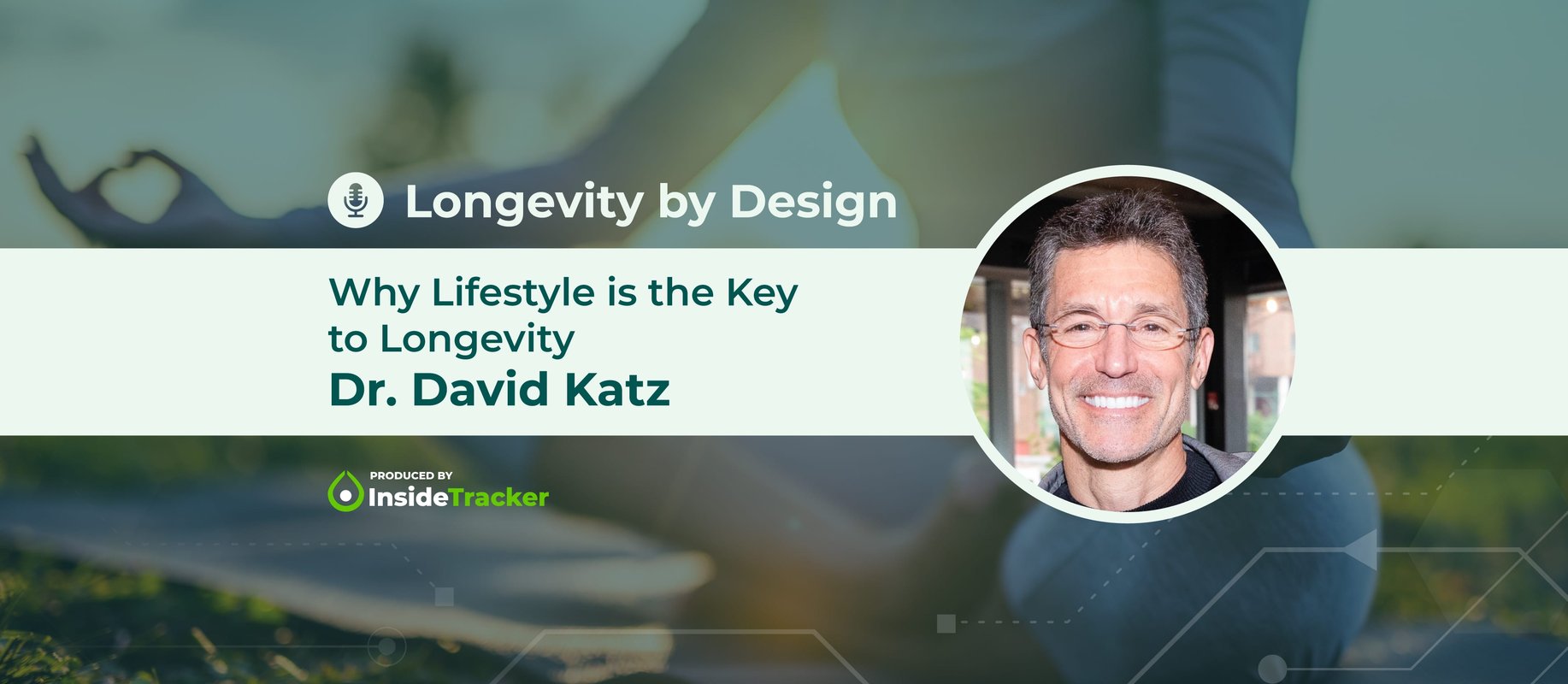 Listen to this episode of Longevity by Design on Apple Podcasts, Spotify, and Google Podcasts
Staying healthy can actually be quite simple. You should eat healthy foods, spend time with loved ones, exercise regularly, and sleep well. Or, as our podcast guest puts it, "feet, four fingers, sleep, stress, and love," the six-cylinder engine of lifestyle medicine.
In this episode of the Longevity by Design podcast, our co-hosts, Dr. Gil Blander and Ashley Reaver, are joined by Dr. David Katz, the Founding Director of Yale University's Yale-Griffin prevention research center. In this episode, Dr. Katz discusses his preventative approach to longevity. From transforming the healthcare system to promoting a healthy lifestyle and dietary habits, Dr. Katz is truly a public health advocate. Tune in to the latest episode of the podcast to find out more. And, if you're a healthcare professional, you definitely will not want to miss this one.
Meet Longevity by Design's podcast guest, Dr. David Katz
Dr. David Katz, MD, MPH, FACPM, FACP, FACLM is the Founding Director of Yale University's Yale-Griffin prevention research center, a CDC-funded clinical research lab he ran for 21 years. He's also the Founder and current Chief Executive Officer of Diet ID, an API intended to disrupt current processes for dietary intake, goal setting, and nutritional coaching. Katz has overseen dozens of community and clinical intervention trials, generating roughly 200 peer-reviewed publications. Dr. Katz is on the advisory board of InsideTracker to help people optimize their bodies using science and technology.
According to Dr. Katz, "lifestyle is medicine." In this episode of the podcast, he goes into further detail about how the United States' current healthcare system, lifestyle, and diet contribute to longevity. Finally, he shares many insightful remarks about the role of culture in delivering a healthy lifestyle to the public.

Taking a preventative approach to health
Dr. Katz realized the necessity of a preventative approach to health in the healthcare system early in his career. What are the root causes of these conditions? How can we prevent serious health outcomes before they even develop? Dr. Katz is passionate about using his everyday work to answer these questions and transform the way the United States views healthcare.
"In the United States, we have this incredibly complex and quite cockamamie system of what we call 'healthcare,' which is disease care. We need to transform all of that. If we want to talk about disease prevention, health promotion, wellness, vitality, longevity, we don't have a system designed to deal with that; we have a system designed to diagnose disease and prescribe drugs and surgery."
Dr. Katz stresses the importance of prevention in healthcare, "prevention is better than a cure. The root causes of diseases are just as essential as treatment methods." Dr. Katz discusses his two primary prevention-based approaches: lifestyle and diet.
Lifestyle is the key to a longer and healthier life
Dr. Katz firmly believes that lifestyle is medicine. Simply put, there is no magic pill to help us live a longer life. Instead, lifestyle is a great alternative—the choices we make define us.
The food we eat can either help us live longer or contribute to premature death. Dr. Katz further explains, "the three master levers of medical destiny are feet (physical activity), forks (dietary patterns), and fingers (exposure to toxins like tobacco, and excess alcohol). If we avoid tobacco, eat optimally, and are physically active, 80% of all chronic disease in the modern world would go away."
Dr. Katz challenges others to think about notoriously healthy populations. "Let's look at the Blue Zones, and let's acknowledge the fact that that's where people eat well at scale. It's not because their doctors or dietitians are doing such a swell job counseling them. It's because it's culturally normal to eat well. So ultimately, if our lifestyle is the best medicine, culture is the big spoon that delivers that medicine."
Food directly influences longevity and vitality
As Dr. Katz puts it, forks, or the food we eat, contribute to our medical destiny. Poor diet quality can lead to premature death: 500,000 people every year in the United States alone, in fact. Instead, food can be a tool to promote vitality and longevity. It's the fuel that keeps our hearts beating and our bodies running. Because we're primarily in control of what we eat, we have to make sure that we're consuming nourishing foods. Dr. Katz's top food recommendations? "Real food, not processed food. Food directly from nature. And mostly plants. Lots of vegetables, fruits, whole grains, beans, lentils, nuts, and seeds. And by the way, when you're thirsty, you should drink plain water most of the time. And if you do that, whatever else you do is probably not going to matter too much. It'll be fine. And if you don't do that, whatever else you do, isn't going to compensate."
---

Longevity by Design is a podcast for individuals looking to experience longer, healthier lives. In each episode, Dr. Gil Blander and Ashley Reaver join an industry expert to explore a personalized health journey. The show helps you access science-backed information, unpack complicated concepts, learn what's on the cutting edge of longevity research and the scientists behind them. Tune into Longevity by Design and see how to add years to your life, and life to your years.

---