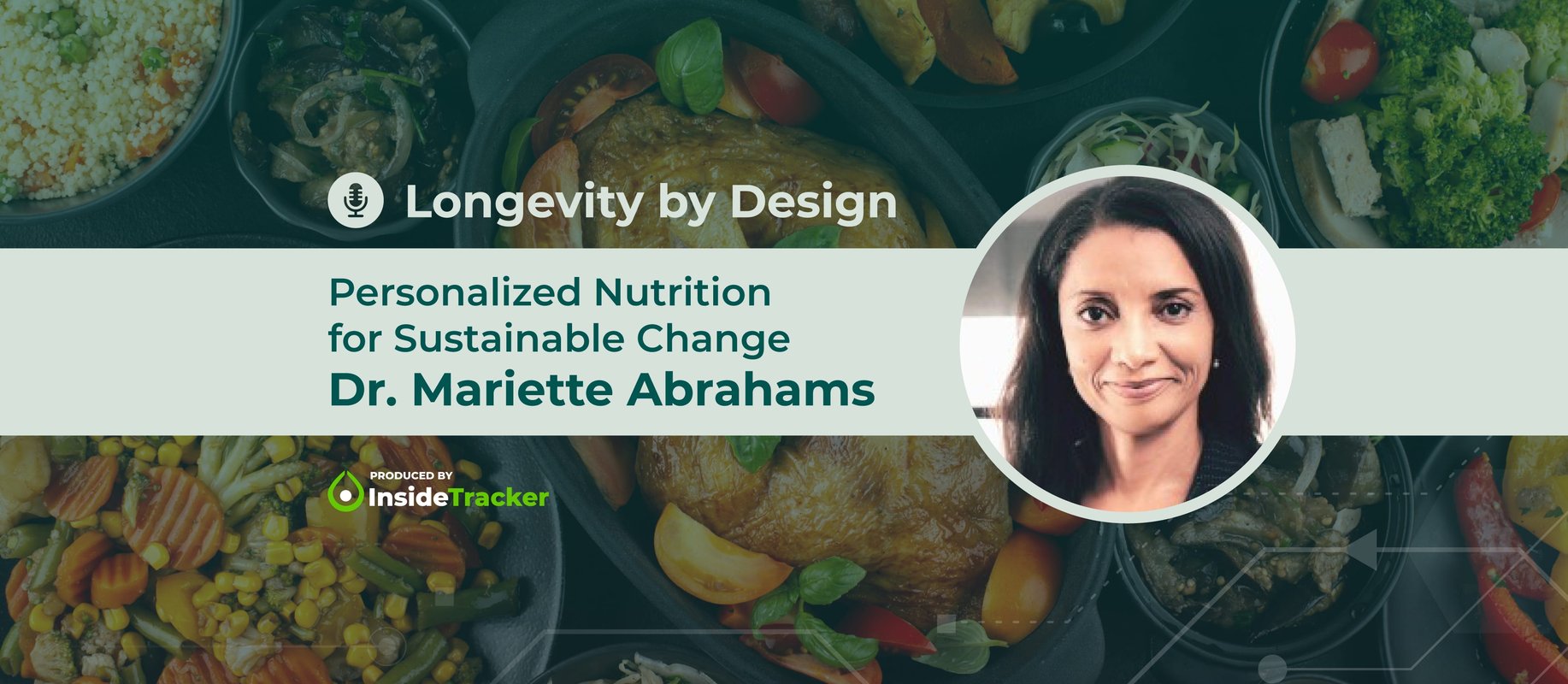 Listen to this episode of Longevity by Design on Apple Podcasts, Spotify, and Google Podcasts
In this episode of Longevity by Design, our hosts, Dr. Gil Blander and Ashley Reaver, MS, RD, CSSD, are joined by Dr. Mariette Abrahams, CEO, and Founder of Qina, the first hub for data insights on Personalized Nutrition. Tune in as Mariette Abrahams discusses personalized nutrition and how to turn simple actions into sustainable health changes.
Meet Longevity by Design's podcast guest, Dr. Mariette Abrahams
Dr. Mariette Abrahams has a PhD in personalized nutrition, an MBA, is a registered dietitian, and is the founder of the company Qina, a hub for insights on personalized nutrition.
Dr. Abrahams aims to bridge the gap between academia, research, industry, and frontline health professionals. She develops personalized nutrition products, services, and platforms that are evidence-based, representative, equitable, and ethical for individuals to take charge of their health.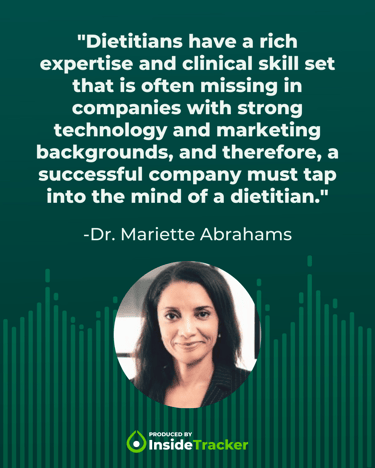 Dr. Abrahams on founding her company, Qina
Dr. Abrahams discusses the genesis of the company that she founded, Qina, a technology that provides insights on personalized nutrition. Qina was formed at the intersection of her clinical experience mixed with her business education. Dr. Abrahams began to notice discrepancies between what she saw in clinical settings and the solutions that technology companies provided. "Dietitians have a rich expertise and clinical skill set that is often missing in companies with strong technology and marketing backgrounds," says Dr. Abrahams, "And therefore, a successful company must tap into the mind of a dietitian." Qina provides a cohesive combination of analytics, dietetics, innovation, and strategic communications to promote personalized nutrition.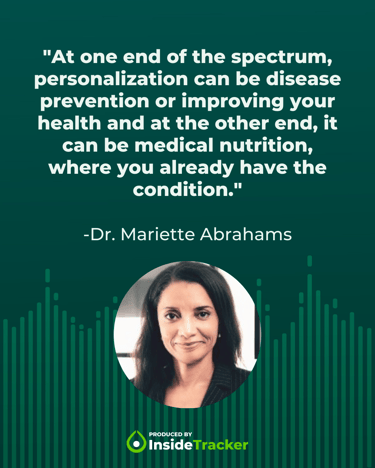 What is personalized nutrition?
With a diverse background in clinical nutrition, business, and personalized nutrition, Dr. Abrahams paints a holistic picture of personalization. She explains that it is crucial to provide actionable advice that is both relevant to the individual and leads to a health or behavioral outcome. "At one end of the spectrum, personalization can be disease prevention or improving your health," says Dr. Abrahams. "At the other end, it can be medical nutrition, where you already have the condition. In this case, we utilize specialized products to help you improve the condition by reducing symptoms and improving biomarkers." As Dr. Abrahams describes, personalized nutrition is a tool that can be used by everyone, regardless of their current health status.
Dr. Abrahams further explains that personalized nutrition is all-encompassing. Personalizations can be based on taste, lifestyle, culture, religion, etc. Above all, the changes should be relevant and actionable to the individual. This person should feel both enabled and empowered to incorporate changes on their path to a personalized, healthier life.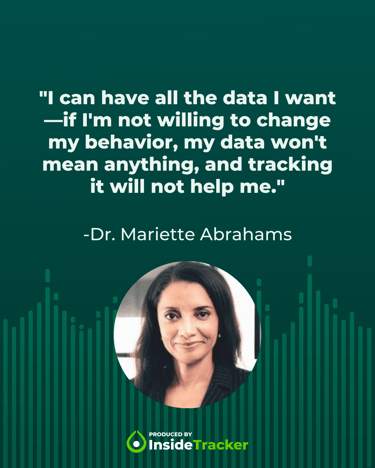 How to turn healthy habits into sustainable habits
As Dr. Abrahams discusses throughout the episode, having a plan is essential for building sustainable habits. Incorporating behavioral changes into the solution is vital to building meaningful habits. It's one thing to track health data over time and another to integrate health changes resulting from this data. "I can have all the data I want—if I'm not willing to change my behavior, my data won't mean anything, and tracking it will not help me," explains Dr. Abrahams. The behavioral aspect of nutrition should come into focus. We can provide better solutions by identifying what drives a particular individual and where the barriers lie.
The future of personalized nutrition
Dr. Abrahams further discusses the future of personalized nutrition. She believes that generally, people can make the connection between food and health—for example, how food impacts multiple aspects of life like mood, gut health, immune health, and so on. Because of this understanding, people pay more attention to what they put in their bodies, what they buy, and how they cook.
However, to successfully deliver personalized nutrition, public partnerships are a must. "We are at a stage now, especially in the US, where there's a realization that personalization is the future. However, we need to have the right partnerships to collect quality data and then make it accessible as well," says Dr. Abrahams.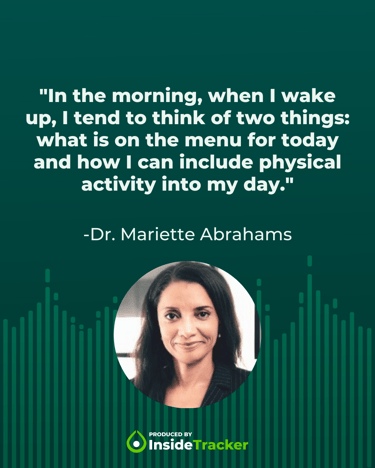 Advice on living a healthier longer life
To conclude the episode, Dr. Abrahams discusses one decision she makes each day to promote longevity. "In the morning, when I wake up, I tend to think of two things: what is on the menu for today and how I can include physical activity into my day." Dr. Abrahams says that for her, longevity is about planning. It is essential to think long-term about how you can implement healthy behaviors every day. Intentional decisions pave the way for a healthier, longer life.
---

Longevity by Design is a podcast for individuals looking to experience longer, healthier lives. In each episode, Dr. Gil Blander and Ashley Reaver join an industry expert to explore a personalized health journey. The show helps you access science-backed information, unpack complicated concepts, learn what's on the cutting edge of longevity research and the scientists behind them. Tune into Longevity by Design and see how to add years to your life, and life to your years.