Ever since his teenage days competing in ski and cycling races, and then as a college athlete, Ken Lubin has had a drive for physical and mental excellence. This passion, in accommodating a growing career in the financial services executive recruiting industry, as well as increased family demands, has evolved into frequent participation in adventure and multi-sport challenges. "I won some fairly big races, and thought, there's got to be other guys like me," who want to perform at their very best, both in the boardroom and on the mountain, he says. The 'fairly big races' Lubin refers to are no less than the 2013 Spartan "Death Race," (he tied for the win), and the 2011 Tuckerman Inferno, where he placed first, both of which require massive mental and physical fortitude, and can last for up to 60 hours!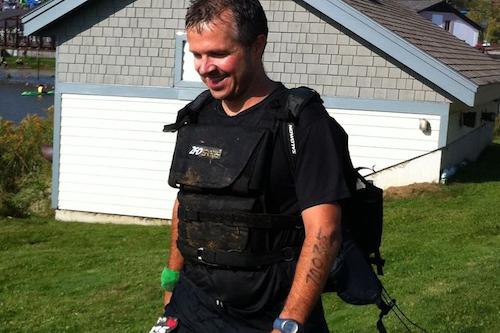 In order to bring together like-minded individuals who want to sit at the intersection of athletic and business performance, Lubin had the idea to start a LinkedIn group called "
Executive Athletes
." It is now wildly popular, boasting 17,000 members worldwide. Over time, this endeavor has expanded to include live events, as well as several other successful social media groups, both on LinkedIn and Facebook. As you get older, Lubin says, you tend to rely less on athletic abilities and more on thinking abilities, but he believes the two can and should go hand-in-hand. Racing is "a blast," but he also cares about continually maximizing his mind and body, to get "better, faster, stronger," and this is a goal that is shared by members of his community. Through his research and in seeking ways to make this goal a reality, Lubin met Dr. Gil Blander, Chief Science Officer for
InsideTracker
. The synergy in their interests and the potential for the product to help Lubin and his community was clear. He signed up for an
Ultimate plan
, which tests for 30 biomarkers correlated with sleep, mood, energy levels, and athletic performance. The concept made a lot of sense to Lubin, as he is focused on his performance – speed, endurance, and strength, in particular – but he cares about overall wellness, too: "I would consider myself a Tim Ferriss meets Dave Asprey type; I'm interested in bio-hacking and in getting the most out of every minute I have," something his executive athlete colleagues also strive for.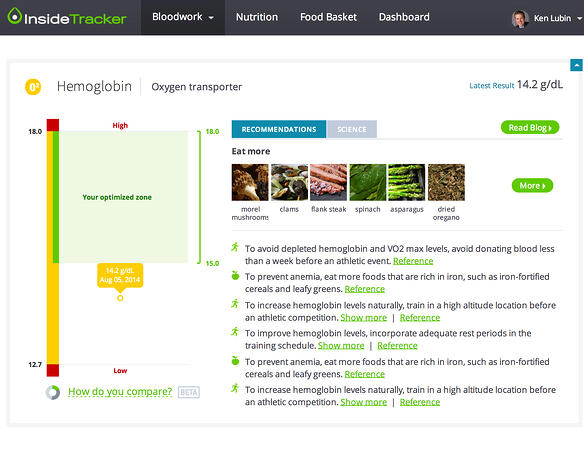 Lubin also draws the connection between his – and his community's – use of and skill with business software, and a piece of software like InsideTracker: "I have used so many different types of business software throughout my career; I use data that's objective to make decisions every day, and InsideTracker to me felt like a familiar, easy-to-follow system. It's a business tool to understand and manage my body and continually refine the decisions I make."

InsideTracker integrates an "optimal zone" into blood analysis – a number that is specific to each person and takes into account his or her own unique demographic information such as: age, gender, ethnicity, activity level, as well as lifestyle and performance goals. InsideTracker's sophisticated algorithm called B.R.A.I.N (Biomarker Research Analysis Integrative Network) determines the optimal zones for each marker based on the latest peer-reviewed research. As Lubin states, "Your arms can lie, your legs can lie, but your blood doesn't lie. That's what's super cool about InsideTracker, you are getting that understanding about what you need to do to live at 100 percent."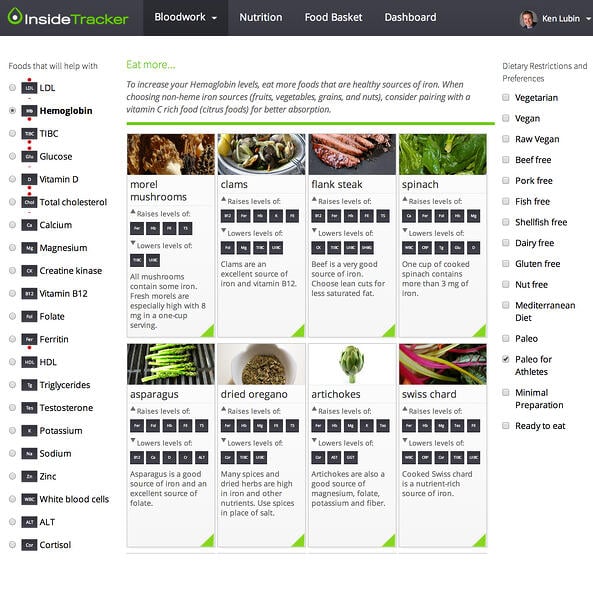 Lubin discovered that, for his own unique biology, he was low in iron, vitamin D, and that his glucose level was borderline high. He has since incorporated some supplementation as well as slight changes to his training regimen in order to address the imbalances. Lubin adds that while typically adhering to what he calls a "loosely Paleo" diet, this summer he has not focused on it as much, and his InsideTracker results and nutrition recommendations are a great way to see where he is during this time, and know what to adjust going forward. He looks forward to re-testing in a month and tracking his progress, and notes that he appreciated the simple and quick ordering, blood test, and results process. In conclusion, Lubin says: "People are afraid of the truth, but if you want to face the truth and take responsibility, that's the only way to success."

Are you, like Ken Lubin, a busy professional who cares about optimizing wellness and performance? Then InsideTracker is for you. Harness your personal health data the way you harness business data every day. You can start now by visiting our Plans page, or click below to download a copy of our free guide to learn more.