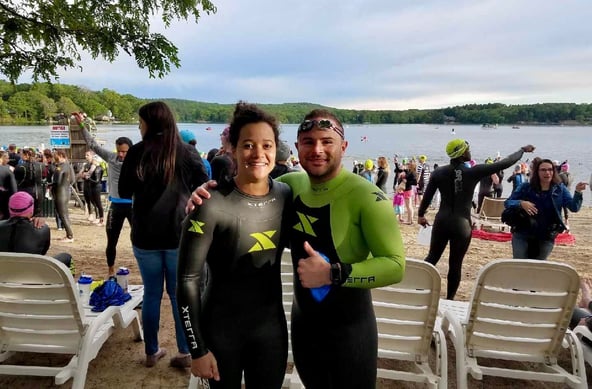 From CrossFit's finest, to world record-holding triathletes, to pro ballers, we work with some of the best athletes in the world. They inspire us to make InsideTracker the authority on what the body needs to train properly, recover effectively, and most importantly, perform at 110% when it comes time for the main event.
They also inspire us on a personal level. No, we're not going for Olympic gold anytime soon. But a noteworthy finish line is certainly on our horizon – we're headed for Ironman Maine 70.3 this August. So please consider this post your official invitation to join us for the training ride as we – Ross and Ashley, InsideTracker's own amateur triathletes – share weekly recaps of our progress (and pain) right here on the blog!
Coming back for more? Click below for the latest update!
1. A bit about the InsideTracker triathletes
2. Ross talks testosterone and cortisol
3. Ashley focuses on inflammation, ferritin, and glucose
A bit about the InsideTracker triathletes
Ross Yellin, InsideTracker Inbound Marketing Specialist
"My athletic career looks more or less like this: In high school, I was a varsity alpine skier. At Dickinson College, I was a varsity drinker. Now, I'm an amateur rugby player.
"In the wake of the 2013 Boston Marathon bombing, having been involved in the healing process for many victims, I was inspired to run the '14 race. I had run one organized race four years prior (a half marathon), and swore I would never do it again. Instead, I doubled down. It was a huge undertaking I once didn't think possible, but I smiled every step of the way.
"Fast-forward to 2015: I was playing in a Rugby Sevens tournament. After receiving a pass, I went on a breakaway for the try (like a touchdown in football), and as I scored, I was tackled from behind. My body went with the momentum of the tackle; my ankle didn't. It completely shattered. Newly enhanced with 10 screws and a titanium plate, recovery began.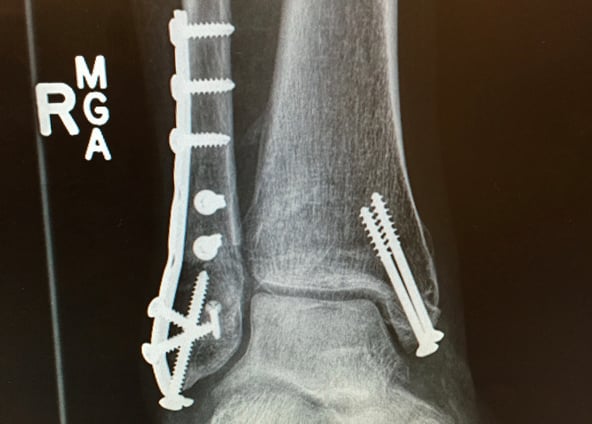 "This past winter, when my ankle gave me the 'OK,' I joined CrossFit. But then, as warm weather came into view, and having been inspired by our InsideTracker triathletes, I switched gears and decided it was time to tackle my next lofty goal, a Half Ironman."
Ashley Reaver, RD, InsideTracker Lead Nutrition Scientist
"Growing up as a competitive gymnast, I spent 6 days a week in the gym. But in high school, I began craving a "normal" life. Luckily, gymnastics had primed me to be a good all-around athlete; I quickly picked up soccer and lacrosse, and played both all four years. I continued my lacrosse career at Cornell, where I played at the club level.
"Since then, I've stayed active by bouncing around between gyms, studios, and CrossFit boxes – avoiding endurance activities at all costs. I never liked long distance running. But when my mom was approaching her 50th birthday, she asked if I would run a half marathon with her. How could I turn her down? Crossing the finish line together was an amazing experience. I was incredibly proud of both of us. It was a feeling of accomplishment that I had been missing since starting my first job, two years prior, as a dietitian. I was bitten by the race bug, and finished six half marathons in two years. That running spree came to an end when a knee injury forced me to hang up my sneakers.
"During those years, I also learned how to swim like a real person! I was an expert doggy paddler, but had no idea how to freestyle until I signed up for adult swim classes at the YMCA and loved them. That leads us to last summer. Ross and I did our first sprint triathlon (to be honest, it was mostly an excuse to spend a weekend in Nantucket). Shortly after, I did an Olympic tri. It was rough, and I told my mom never to let me sign up for another race. But, three months later, I let Ross talk me into a Half Ironman."
From CrossFit to Olympic Triathlon: Oh, how far we've come
Both of us were going to CrossFit four or five times per week over the winter, and there's no question it helped with our strength and fitness. But as we look back at our time there, we realize our endurance didn't quite reap the same benefits.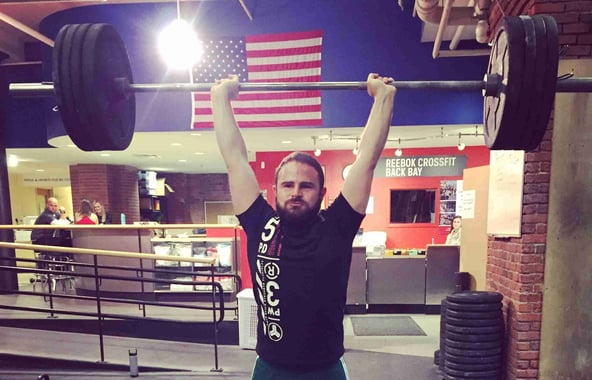 We registered for the Half in January, and began researching training schedules. We decided to go with Endurance Nation's beginner plan. The only prerequisite? Having the fitness to complete an Olympic Triathlon! A high hurdle for the prized title of 'beginner.'
So we kicked off our Olympic training mid-April, in just enough time to get in the pool, out on the road, and across the finish line of the Rev3 Quassy Triathlon, a.k.a. "The Beast of the Northeast." Take it from the two of us - this course lives up to its name!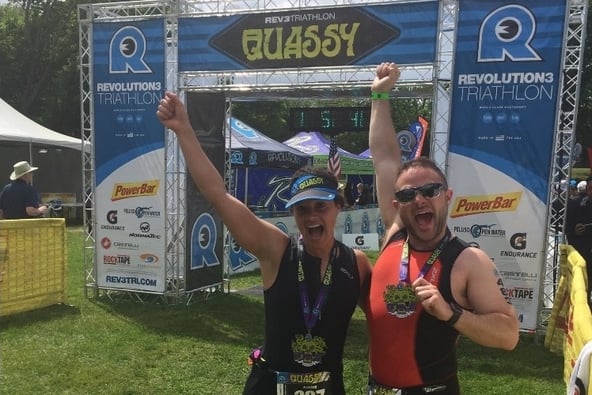 And that's where we'll pick up next week, with a review of our post-tri InsideTracker results. A quick teaser: the course was truly a beast, and the bloodwork shows it!
Ross talks testosterone and cortisol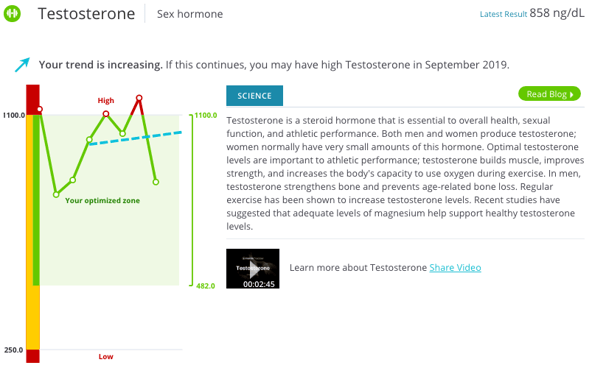 "I'm not trying to be boastful here, but my testosterone levels are typically sky-high. As you can see in the screenshot above, they're usally nearing the top, or even above my optimal zone. But see that dip at the last data point? Yeah, that's the result from my post-Quassy (Olympic) Triathlon. A 304 point (ng/dL) drop!
"But let's talk about what's important here - the why.
"First of all, it's nothing to be alarmed by. A drop in testosterone like this is totally normal and expected. It shows the triathlon took its toll on my body. As I mentioned before, it was a hilly (read: mountainous!) course. While testosterone is typically thought of as a sex hormone, and it is, it also plays a critical role in athletic performance and recovery. So, as my body recovers, specifically my muscle tissues, it's not surprising to see a dip in testosterone. It's being "used up" in the recovery process.
"So what's the takeaway? I pushed myself through a tough course, and my body is reacting accordingly. But did I push myself too hard? Let's take a look at my FT: Cortisol ratio for more on that..."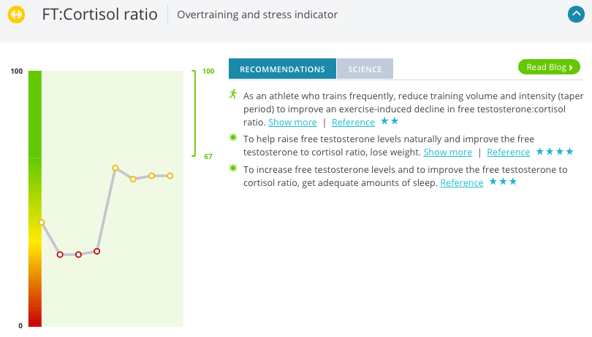 "Well, would you look at that... I'm heading in the right direction! This measurement, the FT:Cortisol ratio, as you can see, is an overall indicator of overtraining and stress. See it dip too low into the "at risk" red zone and you'll know it's time to "tap the brakes." Conversely, if you're in the optimized, green zone, that means you're in the clear, and it's time to push for that PR!
"So what's the jump in my results all about? Crossfit vs. triathlon training. I'm not one to shy away from a hard WOD, and it showed. So it seems I recover quite a bit faster from endurance sport than from weight training.
"So why am I still outside of my optimized zone? As you can see from the platform's recommendations, I've still got some work to do.
"It's no secret training for a Half Iron means heavy training, so I could likely benefit from a bit more off-time and active recovery. That's where focusing on getting an adeqaute amount of sleep really comes into play. I've made it a priority.
"As for the weight loss piece... yeah, yeah, yeah. I know! But if you've had a slice of pizza or scoop of ice cream lately, I need say no more."
Ashley's focus: inflammation, ferritin, and glucose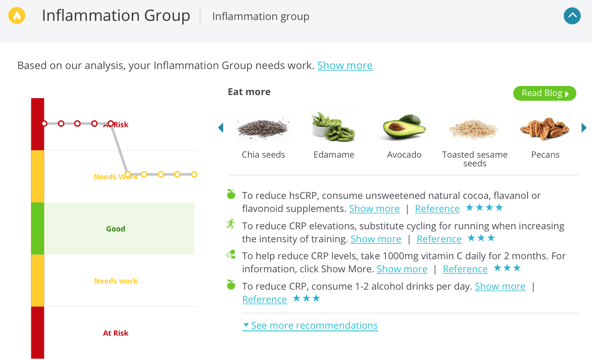 "Turns out my hsCRP went up a bit, which is expected after long endurance activities since the stress is usually in the joints as opposed to the muscles. My knees were feeling it after this race, so I was not totally surprised.
"I am using this latest round of testing to make a concerted effort to get in more antioxidants — adding dark chocolate, 1/2 glass of red wine, fruits and vegetables high in vitamin A, C and E, as well as brazil nuts (high in selenium) to my daily routine."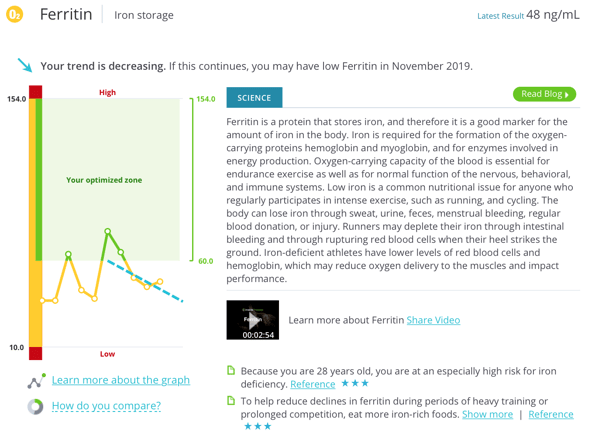 "My ferritin level is still below optimal, but not low enough to warrant a supplement. The (delicious) result and action item? I've added steak into my dinner menu once a week for the past few weeks now. Ferritin is expected to decrease throughout tough training—especially higher volumes of running. I am stocking up when steak goes on sale!"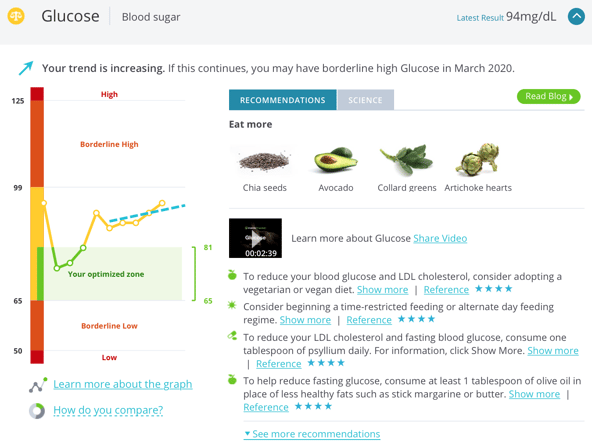 "The last marker I am trying to be more mindful of is glucose. My glucose hasn't been in the optimal zone for some time, but it went up in this last test. Knowing that I will have to use a lot of simple sugars during long training sessions, I need to make a better effort of timing my high sugar foods (like fruit) by limiting them to pre and post exercise and incorporate more good sources of fiber (I'm going for beans, barley, and oatmeal) each day."
That's all for now. Stay tuned here for more, and be sure to follow along on Instagram - @InsideTracker, Ross, & Ashley.
Learn how your biomarkers affect your body in this FREE e-Book download!
Some other blog posts we think you'll love: