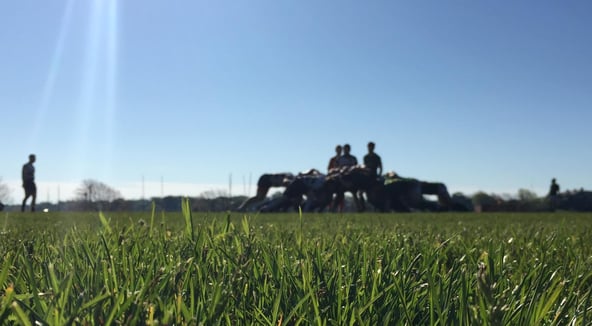 Did you know that until their loss against Fiji yesterday, Team USA was the defending Olympic Rugby Champion? That's right, back in 1924—the last time rugby was played in the Olympics—Team USA took home the Gold. And though they weren't able to defend their title, they played hard hitting rugby, and were just narrowly edged out by the (best in the world) competition.
As a long-time rugby player, I've received my fair share of questions: "people play rugby in the US? There's more than just one team? How did you get into it in the first place?" And perhaps most commonly, some iteration of: "Aren't you afraid you're going to get hurt?!"
The short answer to the common question: no. I'm not afraid of getting hurt, I'm afraid that if I get hurt, I may not be able to continue playing the sport I love so much. But, no matter your sport, you can relate to rugby. From sprints to tackles, and from kicks to throws, if you play a field sport, or are interested in increasing your endurance, train like a rugby player and you'll be built to impress in no time. Here, I'll not only provide a few tips on recovery and how to be rugby-ready for your upcoming season, I'll also give you a quick glimpse into the history of the sport, and a bit of "Rugby 101" so that you can join the conversation.
Practice, Prep, and Recovery
How do you get ready for a grueling game that's all-out sprinting combined with big hits and minimal breaks in the action? Well, everyone has a different answer to that question, but all agree sprint workouts are a requisite piece of the puzzle.
In the gym
Back squats – 6 sets of 6 – perfect for the quads, glutes, hamstrings, lower back and shoulders. All the muscles you'll need to hit and run efficiently.
Bench press – 6 sets of 6 – engaging the pecs, shoulders, triceps, and abs, you'll have perfect form in the scrum (defined below).
Pull ups – 6 sets of 6 – even out the bench and work on your upper back. You want to stand toe-to-toe with the big guys right?
Box Jumps – 6 sets of 6 – a great simulation of jumping up from a tackle and being ready to go again. Want to add some difficulty? Add a burpee between each jump.
On the field
Sprints, sprints, and more sprints. Then, when you think you've had enough, sprint again.
Ladders are a classic approach. Find a football field, and note the yard lines. Sprint to the 25 and jog back. To the 50 and jog back. To the 75 and jog back. Then to the end zone. But don't just stop there, now go in reverse, end zone, 75, 50, 25. That's 400 yards. Aim for 1,600 to start, and as the season approaches, push yourself closer to 3,200 – that's eight sets.
Recovery is key
In a sport where injuries can come easy, you want to be sure you're at the top of your game every time you lace up your boots (cleats). By prepping for the season properly (ahem, see above), you'll be rugby ready, but with a hard hitting match each week, the bumps and bruises add up. With the adrenaline of the game, you won't feel them out on the pitch. But over the course of the season, you may see you levels of inflammation (hsCRP), creatine kinase, and cortisol begin to rise. InsideTracker not only tests for all of these (and much more), we also provide you with the knowledge, recommendations, and nutrition advice to address these issues before they result in injury. When injury occurs (feel free to ask about mine, I've got some good ones), InsideTracker can help get you back to the action as fast as you can finish those sprints. Most importantly, be sure to recover fully before jumping back in.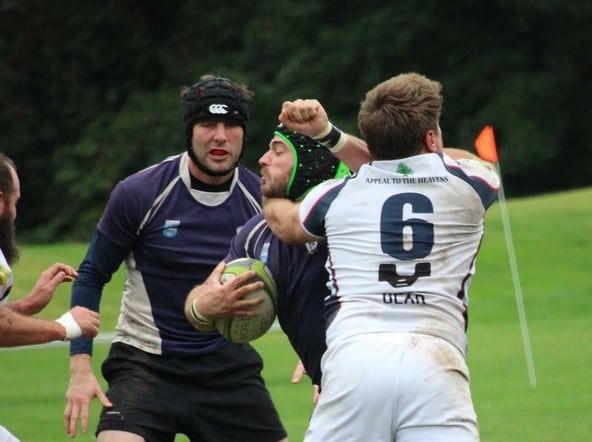 Learn the lingo - Rugby 101
At this point in the Olympic action, I'm hoping that you've already caught some of the televised rugby action. If you have, perhaps you've heard a few questionable comments from the announcers and asked yourself "did they just say what I think they said?" Yes, yes they did.
In rugby, there's nothing inappropriate about the Hooker being sent to the sin bin, aside from the fact that he's left his team a man down.
I promised to keep it short, so think of the "sin bin" as the penalty box in hockey. Commit a penalty, and you're off to the sin bin for two minutes. Doesn't sound like that much? Don't forget, each half is only seven minutes.
As for the hooker? That's me. No really, that's my position. The hooker is front and center between the two "props," and leads the "scrum" – the intertwining huddle (see top photo) to establish possession of the ball. Unlike other sports, rugby numbers are assigned by position. From 1-7, the positions are loose-head prop, hooker, tight-head prop, scrum half, fly half, centre, and wing.
So why do they keep talking about how each team is trying? Of course each team is trying— they're at the Olympics! But in this case, a "try" is rugby's version of a touchdown. Unlike the NFL though, a try is good for 5 points, and the kick that follows it, the "conversion," which has to go through the uprights just like a field goal, is good for 2 points.
As for the actual play of the game, it's fairly simple. When you have the ball, run straight up the field and apply downward pressure to the ball as you pass the goal line. Ideally, you'll touch the ball down between the uprights, as the conversion kick is taken directly out into the field from the place of the try. Defense? Hit the guy with the ball. Be sure to tackle low and wrap him up in a bear hug. A spear tackle like you see in football, or a tackle near the neck, a "high tackle" (see above) results in a penalty.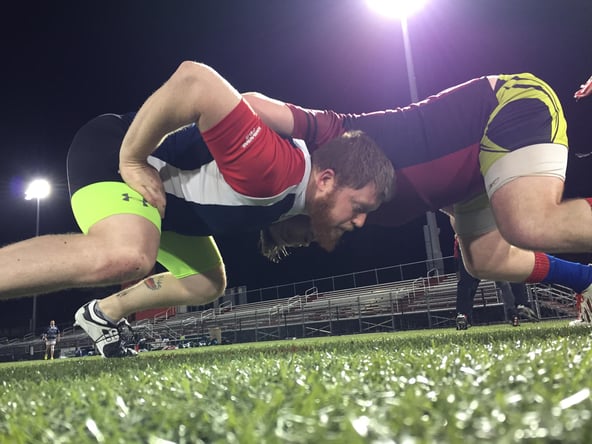 A brief background
First things first. No, rugby is not a foreign translation of American Football. The game came to be in the 1820s at the Rugby Prep School in England when a football (ok, soccer) player picked up the ball, ran with it, and trounced a few of his friends as he ran toward the goal. It must have been one hell of a run, because rugby was born.
Since then, rugby has thrived across the Commonwealth countries (former and current British territories) and has taken a distant backseat to (American) football. But remember how the USA won gold the last time around? Well, as it turns out, competition for that medal wasn't quite as tough as it is in Rio. Rugby made its Olympic debut in 1900, was played again in 1908, 1920, and finally in 1924. The last time rugby was seen in the Olympic arena though, only 3 teams were going for gold. That's not to say that the competition wasn't fierce and the rivalries weren't intense – after the final whistle of the gold medal match, fights broke out not only amongst the players, but between the fans as well.
Now, 92 years later, there are quite a few differences in the sport. First off, the version being played in the Summer Games is "Sevens" — a shortened version of the game with seven players on each side and seven-minute halves. For comparison, the most commonly played iteration of rugby, Rugby Union "Fifteens," is played with 15-a-side and 40-minute halves. With both sevens and fifteens played on the same size pitch (read: field), sevens is played at all-out, breakneck speed (see the training plan above, and get to work!). Similar to soccer, both editions have minimal time off within the half, with stoppages really only occurring for injury and a lull in play coming while the conversion is kicked. With 12 teams vying for gold this summer, including powerhouses Fiji and New Zealand, don't blink – you might miss it.
Wondering what ALL of your biomarkers mean? We've created this handy biomarker e-book for reference—it's FREE & it's yours to download!
Some other blog posts we think you'll love: