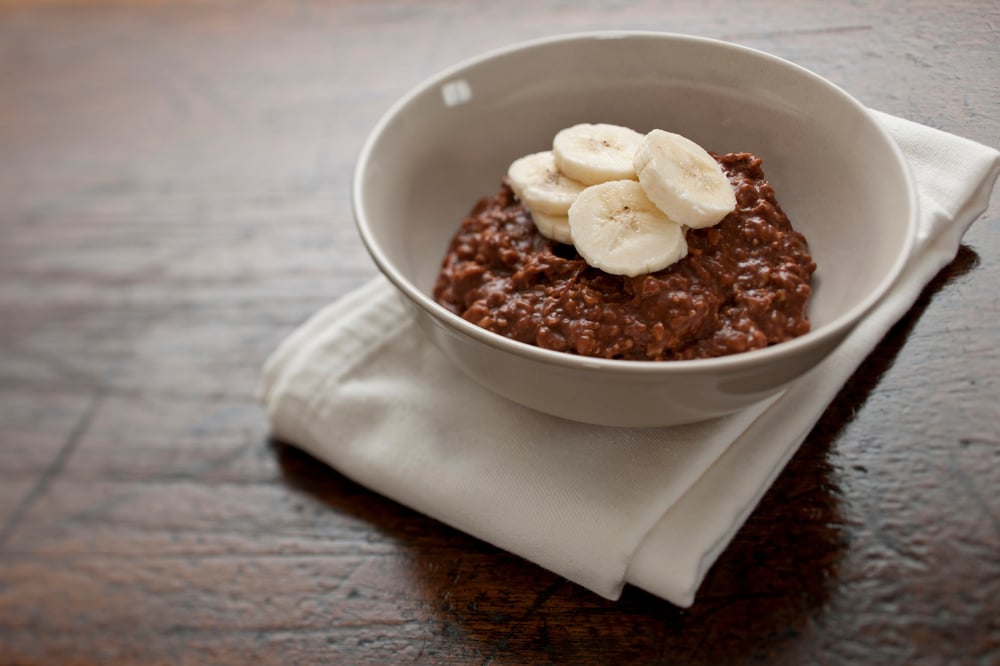 It's no secret that we love oatmeal at InsideTracker. It really is the ultimate superfood when it comes to your metabolism—packed with soluble fiber, the impact on glucose and cholesterol can't be beat! With these recipes in hand, you'll be well-prepared for breakfast with five distinctly delicious varieties.
InsideTracker founder and Chief Science Officer, Dr. Gil Blander, is also a big fan of oats. He says, "The soluble fiber found in oatmeal is a key factor of metabolic health. Unfortunately, it has been thrown by the wayside recently with the re-emergence of low-carb diet trends like the Paleo Diet. Oatmeal's absence has a number of adverse effects. InsideTracker recommends oatmeal to support a variety of biomarkers—most importantly, for the regulation of cholesterol and glucose."
In addition to breakfast, it makes an awesome snack or quick dinner in a pinch. It's hard to make soluble fiber sexy, but my aim is to do just that! Spruce up your oatmeal with these five recipes.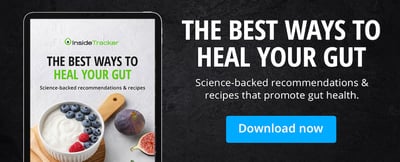 But first, some soluble fiber science
InsideTracker recommends food with soluble fiber for a variety of biomarkers, most importantly the regulation of cholesterol and glucose. By definition, fiber is a non-digestible food component with physiological effects on humans.[1] These physiological effects are beneficial to our bodies and range from optimal metabolism to sustaining healthy gut bacteria.
There are two types of fiber: soluble and insoluble. [2] Insoluble fiber is the form most commonly found in vegetables. Celery strings and kale stems are good examples. Its primary purpose is to create "matter" or "content" to move through our digestive systems — if you get my gist. While it's incredibly important for a multitude of reasons to eat a variety of fruits and vegetables, insoluble fiber from just vegetables is not enough for maximal health.
How do we get enough? Eat both insoluble and soluble fiber. Soluble fiber is named for its ability to absorb water. As it moves through the GI tract, it begins to swell and skims the lining of your intestines — resulting in an effective intestinal cleansing.
Soluble fiber is found in oatmeal, lentils, beans, nuts, flaxseed, and psyllium, to name a few examples. It is also found in fruits high in pectin, such as apples, citrus, and berries.[3] Whole grains also provide soluble fiber, but they aren't essential to meet your body's needs. They are, however, packed with vitamins and minerals that are stripped away in processing to make "white" grain products. [4]
On to the oatmeal
A solid base recipe is key! You want equal parts oatmeal and liquid (½ cup each). I prefer a milk variety but it can also be made with water. If you are really looking to optimize glucose, triglycerides or total, LDL, and HDL cholesterol, add a boost to the template by adding 1 tablespoon of each chia seeds, flaxseed and psyllium husk. Add oats and liquid to a saucepan, bring to a low boil, and then reduce heat and stir occasionally until all liquid absorbed. Add chia, flax and psyllium at the end of cooking. This base recipe is about 300 calories and 16g of fiber. We aren't playing around here!
A hearty bowl of oats can keep you satisfied for hours. Don't be afraid to eat a larger amount of calories for breakfast if it will keep you full until lunch and eliminate mid-morning snacks. If using this as a snack, cut back on one, two, or all three of the add-ins, especially if you are eating it as a snack before a workout because too much fiber can be difficult to digest when exercising.
Chocolate Nut Butter Oatmeal
A delicious and seemingly decadent twist on oatmeal that is great for you and your biomarkers. In addition to benefits of our base oatmeal, the nut butter adds a punch of polyunsaturated fats, vitamin E, and additional fiber, which will benefit liver enzymes. Dark chocolate chips are high in antioxidants that support optimal White Blood Cell levels and hsCRP.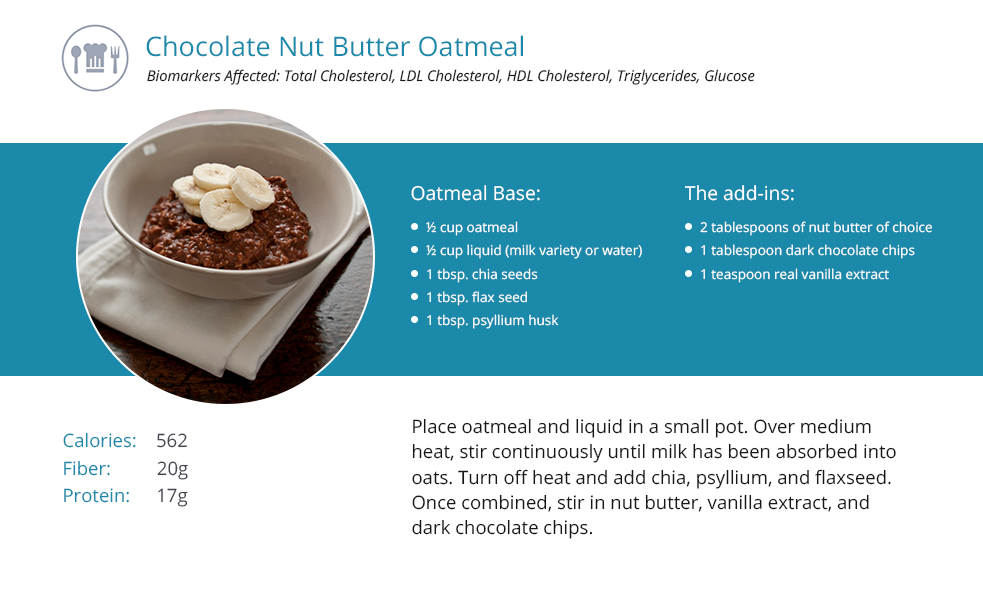 Click here to download this recipe!
Tropical Oatmeal
A light, tropical twist on oatmeal transports you to an island. The coconut milk used in the base add a luxurious creaminess to the dish as well as fat that will keep you satisfied long after you've returned to reality. The exotic fruits are high in vitamins A and C, which will benefit White Blood Cells and hsCRP.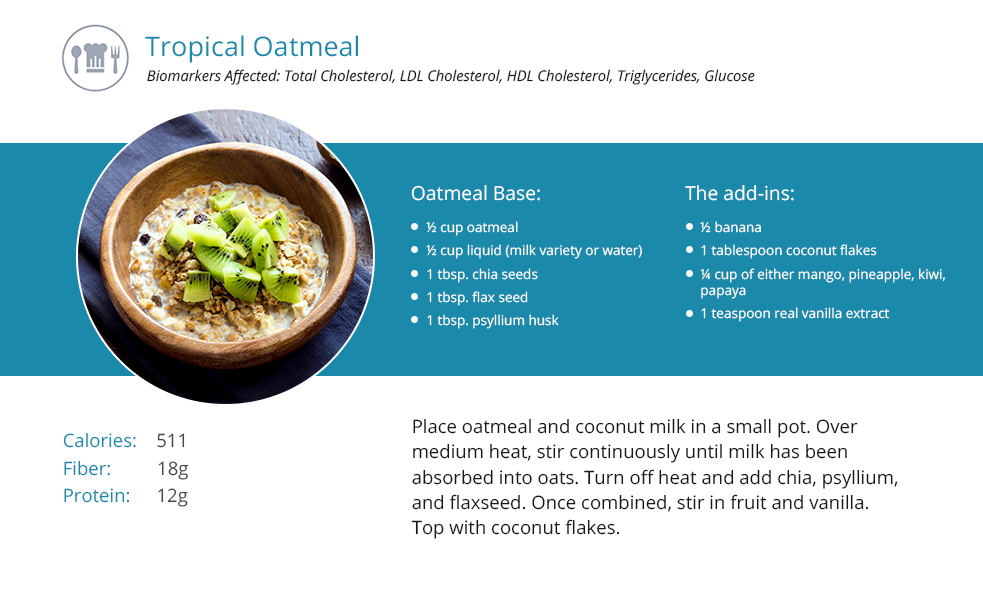 Click here to download this recipe!
Apple Pie Oats
Enjoy the classic American pie flavor and celebrate your health. Warm and satisfying, this dish is great year round and even good cold. Swap in ½ cup of pureed pumpkin for an autumnal variation. Add a dab of maple syrup for sweetness, if needed.
Click here to download this recipe!
Old-Fashioned Banana Custard Oatmeal
An ode to the old-fashioned dessert, this banana custard oatmeal is thick, creamy and oh so satisfying. Whisking continuously will incorporate more air than traditional oats that is balanced by the additional fat from the egg yolk. The banana adds a necessary sweetness that is complimented by vanilla and cinnamon.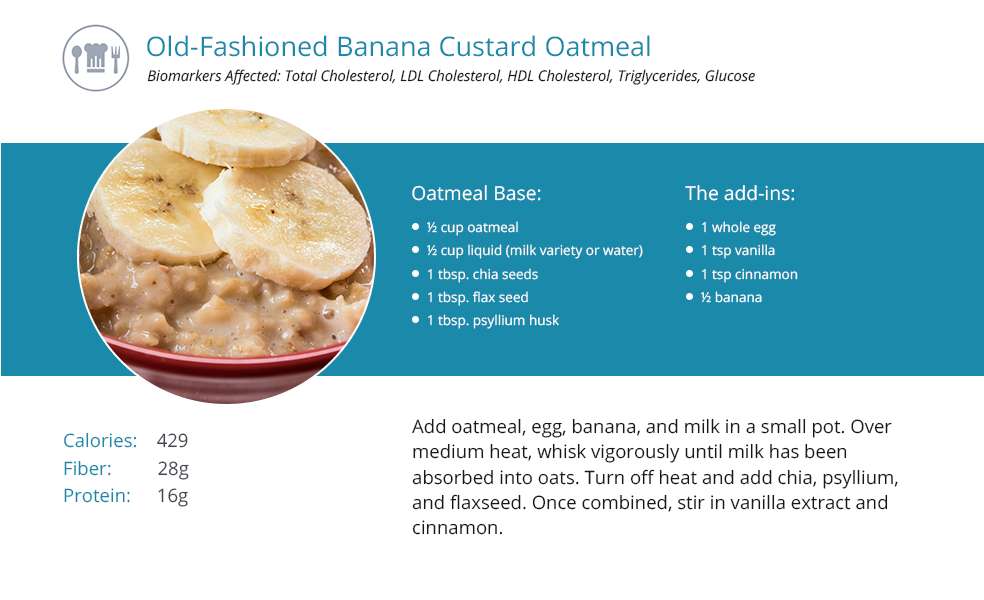 Click here to download this recipe!
Savory Oats
Sweet breakfasts not for you? Looking for a quick dinner recipe? Try these savory oats for a great vegetarian dinner. The nutritional yeast adds a cheese-like flavor as well as a significant amount of Vitamin B12. The runny egg yolk adds a depth of flavor and velvety texture. Green onions add a punch of bright flavor to cut through the richness. Plus this meal is ready in about 5 minutes!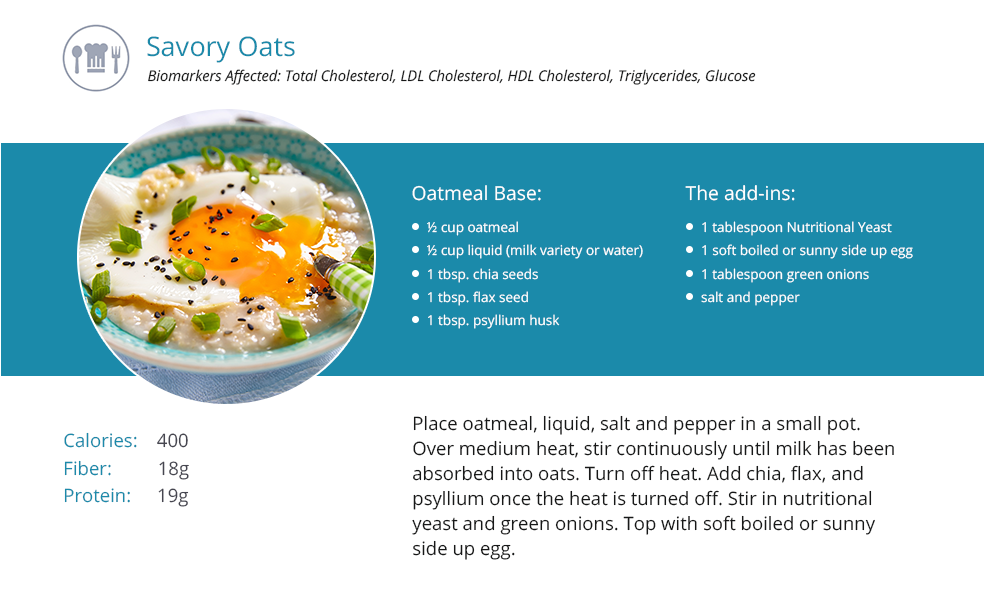 Click here to download this recipe!
Be sure to snap a photo and tag @InsideTracker on Instagram if you give these recipes a try! And be sure to check out more InsideTracker recipes found in our Food Basket.
References

(1) https://www.cerealsgrains.org/resources/definitions/Documents/DietaryFiber/DFDef.pdf

(2) https://pubmed.ncbi.nlm.nih.gov/22254008/

(3) Fiber content of foods in common portions. Harvard University Health Services website, May 2004. huhs.harvard.edu/assets/File/OurServices/Service_Nutrition_Fiber.pdf

(4) https://pubmed.ncbi.nlm.nih.gov/23803885/