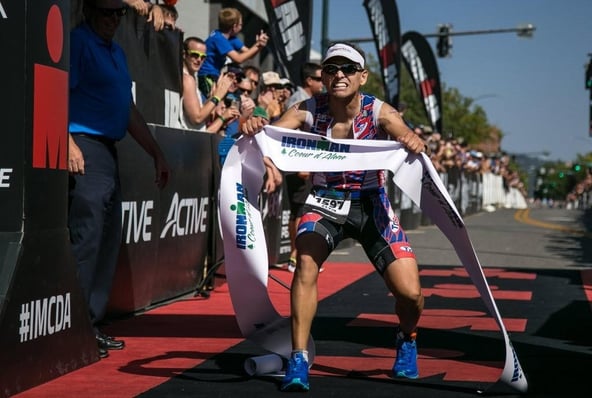 Nine hours, twenty-eight minutes, and twenty-nine seconds. When is the last time you did anything for that long? No, really. Have you even slept that long lately? Well, that's how long it took InsideTracker athlete, Kevin Portmann, to cross the finish line of Ironman Coeur d'Alene.
By crossing the finish line in personal record time and nearly 10 minutes faster than the runner up, he not only punched his ticket the Ironman World Championship in Kailua Kona, he also grabbed his Pro Card - a feat by any measure.
After this triumphant win, our colleague, Mariah Bridges, caught up with Kevin to talk about his training, nutrition, and the role InsideTracker plays in all of it. View the video below, or read the Q&A instead!

So Kevin, tell us how you found out about InsideTracker and how you've incorporated our insights and recommendations into your training…
Well, my first Ironman was Ironman Zurich in 2014, which went well. Then, my goal for 2015 and Ironman Texas was to qualify for Kona, so nutrition became more and more important. As a result, my fiancée and I looked at ways to focus on nutrition and do it right from the get-go. Not just on race day, but throughout the entire training phase. We did some research, and found InsideTracker. What we found most interesting was that it's not just a blood test, it also gives you an idea of what to eat and what to avoid to get your different [biomarkers] in the right zones. It was very interesting to us, and we tweaked our nutrition pretty drastically after receiving our results. It helped us a lot. Texas caught us off guard a little bit, just because of the heat and humidity. But, then we used our results to train for Whistler last year, tweaked our nutrition, and I managed to get my Kona slot there last year.
Tell us a little bit about how you plan to use InsideTracker as you turn your focus toward Kona.
So I've only [tested] once, which I think is good, but if I really want to take full advantage of what InsideTracker has to offer, I would probably need to [test] it 2 or 3 times a year because as you train, as you progress, and as your fitness changes, your needs obviously evolve. Next year, I'll probably be using it right before going into my winter phase, right before going into the key blocks in the Spring, and probably towards the end of the season as well.
Finally, any advice for the age group athletes out there?
Yes, consistency is key! Not just in your training, but also in your nutrition. It's easy to go into a hard weekend of training, crank up the watts, and push a hard pace on the runs, but if you go straight to the fridge and get a burger or very greasy food right after your training, it's pretty much throwing all your training down the drain. Focus on your nutrition. It's very important, and not just a week or month before the race, but really in your build up, and in your first phase towards your taper - really focus on your nutrition. It's what really helped me recover from Whistler four weeks ago to this race. Nutrition was key. Recovery was very important. The fitness was there already, so it was just a matter of maintaining it. But nutrition was very very important.
Want to follow Kevin on his journey to Kona and beyond? Be sure to follow him on Instagram!
Get an inner edge by training based on your biomarkers. We've created this FREE e-Book to help you understand how!
Some other blog posts we think you'll love: