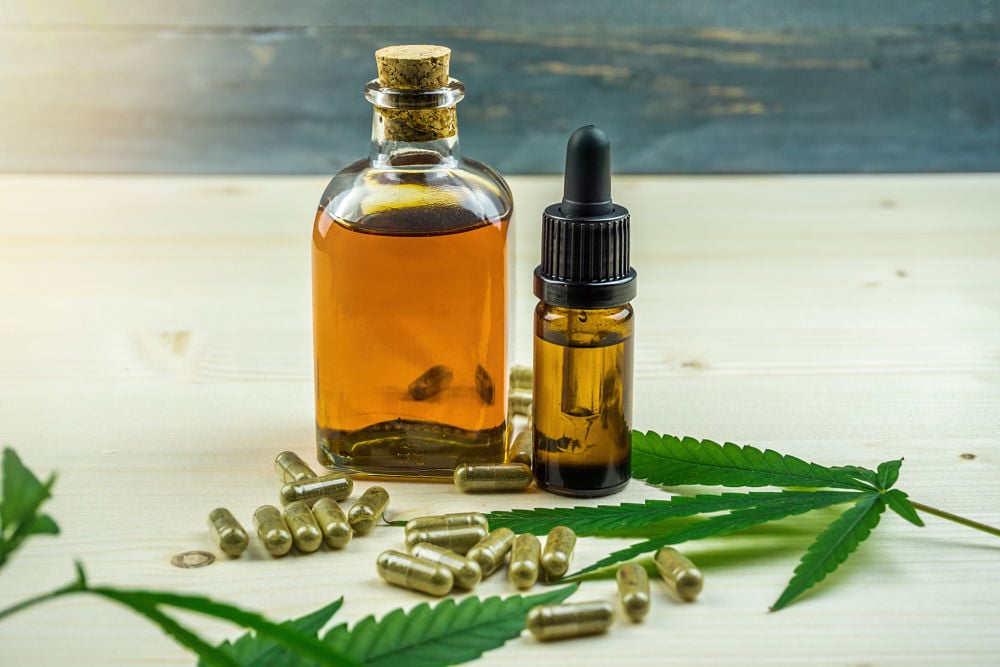 Our current reality is undoubtedly anxiety-inducing. And understandably, demand for household products such as toilet-paper and hand sanitizer has spiked in response. But perhaps more surprising is the surge in e-commerce sales of self-care products containing CBD oil. CBD is perhaps best known for its beneficial effects on anxiety and sleep, and up until recently, this was merely hearsay.[1] The past five years have been pivotal for the legalization of CBD and its use in clinical trials. But does the science support the hype behind this craze? We're laying out the research so you can be an informed consumer.
As always, consult a medical doctor before taking any nutritional supplements InsideTracker recommends. If you have or suspect a medical condition or are taking any medications, please consult a doctor before acting on any of our recommendations.
First, CBD largely does not come from marijuana plants
Let's start from the beginning. Derivatives of the ancient plant family Cannabis sativa have been used for medicinal and recreational purposes for thousands of years. The plant contains nearly 100 active compounds called phytocannabinoids, two of which are tetrahydrocannabinol (Δ9-THC, AKA "THC") and cannabidiol (CBD). And generations of selective breeding of cannabis plants have produced two of the most common modern strains: hemp and marijuana.[2] The difference between these two strains can be distinguished by their ratio of CBD and THC: while marijuana plants are bred to have relatively high amounts of Δ9-THC, hemp plants are bred for higher concentrations of CBD and actually contain negligible amounts of Δ9-THC—less than 0.3% per unit of dry weight.[2]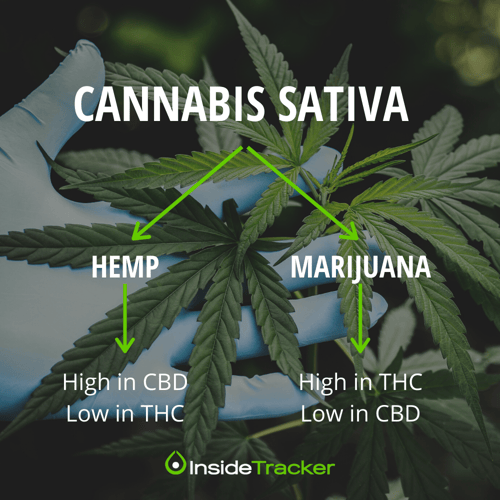 The similarities and differences between THC and CBD
In the body, Δ9-THC and CBD interact with the endocannabinoid system (ECS), an important signaling pathway that regulates stress, inflammation, anxiety, and depression.[3] And while Δ9-THC and CBD have the same molecular structure, slight differences in the arrangement of their atoms impart very different effects on the ECS.[2]


Δ9-THC is known for producing psychoactive effects in the body through the activation of two receptors in the central nervous system called CB1 and CB2.[2,3] The activation of these receptors triggers physiological processes across multiple organ systems, most notably the release of neurotransmitters from the central nervous system that impart the psychoactive effects associated with feeling "high".[4]

Alternatively, CBD binds to CB1 and CB2 at a much slower rate than Δ9-THC, which results in the activation of similar physiological processes without the psychoactive or "high" effects.[4] These physiologic effects make CBD promising for clinical benefits, many of which have been tested in small-scale trials and evaluated in systematic reviews over recent years. Now, let's get into those results and summarizing what we know so far.
A summary of the research of CBD on...
Anxiety
The most commonly-reported use of recreational CBD is as a treatment for anxiety. In one study, participants with social anxiety disorder who were given a one-time dosage of 600mg one hour before speaking publicly had reduced self-reported anxiety compared to a control group.[5] These anxiety-mitigating effects were replicated in a separate study of healthy subjects who were given a 300mg dose.[6] And it seems that these results are standard—a review of 11 trials found that CBD reduced anxiety when taken one hour before an anxiety-inducing event, and a compilation of case reports found that nearly 80% of patients given CBD for anxiety saw reductions in one month.[7,8]
These studies yield promising results, but cannot definitively determine that CBD improves anxiety. Larger, well-designed trials must be conducted to confirm the association between CBD and improved anxiety. For now, you can also try these strategies to reduce stress.
PTSD
Multiple reviews have concluded that sufficient evidence is still lacking on the effects of CBD on mental disorders or their symptoms.[9,10] One study found that CBD may reduce nightmares and sleep disturbances in those with PTSD, but again, larger scale, well-designed trials are warranted to confirm this relationship.[11]
Pain
Alternative therapies for pain management are of particular interest given the highly-addictive nature of modern pain medication. Early, small-scale studies suggest that, while CBD is not effective for the management of acute, short-term pain, it may play a role in chronic, long-term pain.[12,13] In one study, 97 chronic pain patients swapped their opioid prescriptions for 30mg of daily CBD for a year. The results showed that CBD improved quality of life in 94% of participants, reduced or eliminated opioid use in 53% of participants, and significantly improved sleep quality in the group after just eight weeks.[14]
Such results aren't always clinically relevant, however. Another study found that, while CBD was effective in reducing chronic pain by about 1.5 points on an 11-point pain scale, such a change was likely not large enough to make a clinical difference in patient outcomes.[15] So, again, these promising preliminary results warrant larger, higher-powered studies.
Sleep
CBD likely has a dose-dependent effect on sleep—it appears that low doses are stimulating and keep you awake, but larger doses have a sedating effect and can improve sleep time and wakefulness during the night.[16,17] But scientific evidence behind these effects is limited and the mechanism behind them is not yet clear. Further trials are warranted, and until then, check out these proven ways to improve your sleep.
Inflammation
Physiologically, it would make sense that CBD could play a role in lowering inflammation levels due to its interaction with the ECS. In cellular and animal studies, CBD has displayed antioxidant and anti-inflammatory activity.[4,18,19] And while this data is promising, the impact of CBD on inflammation must be tested in humans before this relationship can reliably be marketed. But watch this space—the relationship between CBD and inflammation will be important to understand, as inflammation plays a role in many chronic conditions.
Adverse Effects
As is standard in trials of a novel substance, these studies closely monitored adverse effects of taking CBD—and none were found. However, the FDA has yet to approve CBD as safe due to gaps in current knowledge on potential side effects, most notably for "liver injury, drug interaction, male productive toxicity, and drowsiness."[20] Additional studies in larger populations are underway and should shed more light on the safety and efficacy of CBD.
The latest on CBD's legal status
The 2018 Farm Bill legalized industrial hemp, creating a huge market opportunity for the CBD industry—reports now suggest that CBD is an expanding multi-billion dollar industry.[20,21] However, though the plant source was legalized, current drug trials of CBD prevents the cannabinoid from being a legal dietary ingredient in foods, beverages, or supplements.[20] In addition, the FD&C Act prevents the sale of food products or dietary supplements containing an active drug component like CBD to be sold across state lines.


So then, how are retailers selling hemp-derived CBD products? Ultimately, they're just willing to take on some risk. The FDA is keeping close watch on the CBD market and is developing regulations for the legality of CBD as both a drug and as a food ingredient.[20]

A summary of CBD's effects in the brain and body
Based on currently available science, InsideTracker cannot recommend with certainty that you will benefit from recreational CBD use.
The science does look promising, and clinical trials investigating the impact of CBD are underway.
Based on preliminary evidence, CBD may reduce anxiety, particularly in individuals with social anxiety.
CBD may reduce pain in individuals with chronic pain and reduce symptoms of frequent opioid consumption.
CBD may impart anti-inflammatory effects.


---
Michelle Darian, MS, MPH
Michelle is a Nutrition Science Intern at InsideTracker. Complete with her dietetic internship, you'll find Michelle analyzing the research behind recent nutrition trends to inform novel food and supplement recommendations.
---
References:
[1] Wheeler M, Merten JW, Gordon BT, Hamadi H. CBD (Cannabidiol) Product Attitudes, Knowledge, and Use Among Young Adults. Subst Use Misuse. 2020 Feb 24;1–8.
[2] Pisanti S, Malfitano AM, Ciaglia E, Lamberti A, Ranieri R, Cuomo G, et al. Cannabidiol: State of the art and new challenges for therapeutic applications. Pharmacol Ther. 2017 Jul;175:133–50.
[3] Chye Y, Christensen E, Solowij N, Yücel M. The Endocannabinoid System and Cannabidiol's Promise for the Treatment of Substance Use Disorder. Front Psychiatry. 2019;10:63.
[4] Bielawiec P, Harasim-Symbor E, Chabowski A. Phytocannabinoids: Useful Drugs for the Treatment of Obesity? Special Focus on Cannabidiol. Front Endocrinol. 2020;11:114.
[5] Bergamaschi MM, Queiroz RHC, Chagas MHN, de Oliveira DCG, De Martinis BS, Kapczinski F, et al. Cannabidiol reduces the anxiety induced by simulated public speaking in treatment-naïve social phobia patients. Neuropsychopharmacol Off Publ Am Coll Neuropsychopharmacol. 2011 May;36(6):1219–26.
[6] Linares IM, Zuardi AW, Pereira LC, Queiroz RH, Mechoulam R, Guimarães FS, et al. Cannabidiol presents an inverted U-shaped dose-response curve in a simulated public speaking test. Rev Bras Psiquiatr Sao Paulo Braz 1999. 2019 Feb;41(1):9–14.
[7] Larsen C, Shahinas J. Dosage, Efficacy and Safety of Cannabidiol Administration in Adults: A Systematic Review of Human Trials. J Clin Med Res. 2020 Mar;12(3):129–41.
[8] Shannon S, Lewis N, Lee H, Hughes S. Cannabidiol in Anxiety and Sleep: A Large Case Series. Perm J. 2019;23:18–041.
[9] Black N, Stockings E, Campbell G, Tran LT, Zagic D, Hall WD, et al. Cannabinoids for the treatment of mental disorders and symptoms of mental disorders: a systematic review and meta-analysis. Lancet Psychiatry. 2019;6(12):995–1010.
[10] Hindocha C, Cousijn J, Rall M, Bloomfield M a. P. The Effectiveness of Cannabinoids in the Treatment of Posttraumatic Stress Disorder (PTSD): A Systematic Review. J Dual Diagn. 2020 Mar;16(1):120–39.
[11] Elms L, Shannon S, Hughes S, Lewis N. Cannabidiol in the Treatment of Post-Traumatic Stress Disorder: A Case Series. J Altern Complement Med N Y N. 2019 Apr;25(4):392–7.
[12] Kraft B, Frickey NA, Kaufmann RM, Reif M, Frey R, Gustorff B, et al. Lack of analgesia by oral standardized cannabis extract on acute inflammatory pain and hyperalgesia in volunteers. Anesthesiology. 2008 Jul;109(1):101–10.
[13] Vulfsons S, Minerbi A, Sahar T. Cannabis and Pain Treatment—A Review of the Clinical Utility and a Practical Approach in Light of Uncertainty. Rambam Maimonides Med J [Internet]. 2020 Jan 30 [cited 2020 Apr 7];11(1). Available from: https://www.ncbi.nlm.nih.gov/pmc/articles/PMC7000155/
[14] Capano A, Weaver R, Burkman E. Evaluation of the effects of CBD hemp extract on opioid use and quality of life indicators in chronic pain patients: a prospective cohort study. Postgrad Med. 2020 Jan;132(1):56–61.
[15] Lynch ME, Campbell F. Cannabinoids for treatment of chronic non-cancer pain; a systematic review of randomized trials. Br J Clin Pharmacol. 2011 Nov;72(5):735–44.

[16] Babson KA, Sottile J, Morabito D. Cannabis, Cannabinoids, and Sleep: a Review of the Literature. Curr Psychiatry Rep. 2017 Apr;19(4):23.
[17] Zuardi AW. Cannabidiol: from an inactive cannabinoid to a drug with wide spectrum of action. Rev Bras Psiquiatr Sao Paulo Braz 1999. 2008 Sep;30(3):271–80.
[18] Burstein S. Cannabidiol (CBD) and its analogs: a review of their effects on inflammation. Bioorg Med Chem. 2015 Apr 1;23(7):1377–85.
[19] Pellati F, Borgonetti V, Brighenti V, Biagi M, Benvenuti S, Corsi L. Cannabis sativa L. and Nonpsychoactive Cannabinoids: Their Chemistry and Role against Oxidative Stress, Inflammation, and Cancer. BioMed Res Int. 2018;2018:1691428.
[20] Hahn, MD S. FDA Advances Work Related to Cannabidiol Products with Focus on Protecting Public Health, Providing Market Clarity [Internet]. FDA.gov. FDA; 2020 [cited 2020 Apr 8]. Available from: https://www.fda.gov/news-events/press-announcements/fda-advances-work-related-cannabidiol-products-focus-protecting-public-health-providing-market
[21] Grand View Research. Cannabidiol Market Size Analysis | CBD Industry Growth Report, 2025 [Internet]. [cited 2020 Apr 9]. Available from: https://www.grandviewresearch.com/industry-analysis/cannabidiol-cbd-market