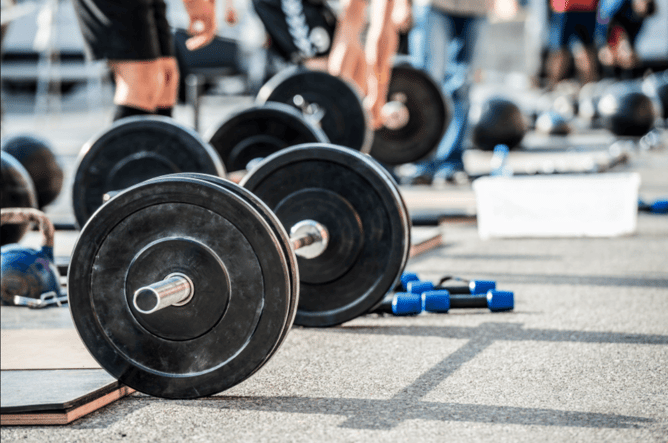 The 2018 Reebok CrossFit Games are fast-approaching and we couldn't be more excited! After all, for those of you who don't know, the CrossFit Games, known simply as "The Games" is the Super Bowl of the CrossFit competition season with the first place man and woman being crowned "The Fittest on Earth."
The competition season kicks off with early in the calendar year with "The Open," a first-round competition that's open to anyone in the world. Once complete, a handful of qualifying athletes are chosen to make their way to one of nine geographically designated events, "Regionals," where they fight for their ticket to The Games.
To put some perspective on how competitive this process is, in 2017, over 375,000 athletes entered the Open. From there, 40 men and women qualify for each Regional competition, of which there are nine. From that lot, the field is narrowed down to the final elite 40 men and women who are #GamesBound. Translation: you have roughly a 0.02% chance of making it to the final stage. Let that sink in!
With this level of competition, athletes are constantly looking for anything to give them an edge. They have specialty coaches for endurance training, gymnastics, and weightlifting. They also have nutrition coaches and measure every piece of food that goes into their body to ensure they're fueled and supplemented properly.
Here at InsideTracker, we work with many CrossFit athletes at the top of the game(s) to give them the data they need to know how their bodies are performing. By analyzing biomarkers in their blood, nothing is left to doubt. They know how their training is affecting them, whether they're eating the right foods (and right amount of them) and even getting feedback on how their bodies are recovering.
So here they are, the athletes of the 2018 CrossFit Games who are taking Selfies from the inside with InsideTracker. And since we love to see our customers achieve their goals, the InsideTracker Team will be there to support them... and we hope to meet and support you too! If you're going to be in Madison, be sure to drop us a line or stop by our booth in Vendor Village and say hello!
Katrín Tanja Daviðsdóttir, Individual Women, East Region
6th Games appearance
2015 & 2016 Games Champion
One of the most well known CrossFit athletes, Katrín has set her sights on becoming the first and only woman to be crowned The Fittest on Earth for a third time. By her standards, last year's at 5th place finish was anything but rewarding. But it certainly seems as though she's found her fire once again in 2018. As one of the favorites going into the Games, look for Katrín to reclaim her title as the Queen of CrossFit.
Tim Paulson, Individual Men, East Region
2nd Games appearance
Know by his Instagram handle, T-Rex, this InsideTracker Athlete is a force to be reckoned with. Tim is easily proving that his first Games bid last year was no fluke. He's been hammering out his weaknesses to be as ready as can be come event 1 in Madison.
Cole Sager, Individual Men, West Region
5th Games appearance
Cole is known for his come-from-behind theatrics when qualifying for the CrossFit Games. However, this year the fan-favorite looks quite different. If Cole's regional performance is a preview, the other Games athletes better watch out.
Dave Hippensteel, Masters 60+
2016 & 2017 Age Group Champion
While most people his age are retired and sitting back on the beach in August, Dave is doing anything but sitting around. The 2-time reigning Games champ in the 60+ division set his goal on making it 3 in a row this year in Madison. If anyone has found the secret to life longevity, it's this guy.
Scott Panchik, Individual Men, Central Region @ScottPanchik
7th Games appearance
Arguably the most consistent CrossFit Games athlete, this is Scott's 7th trip to the Games. In his previous 6 appearances, he has never finished lower than 6th place. This year he looks to top his best overall finish of 4th place and stand among the best come Sunday.
Jen Smith, Individual Women, Central Region

4th Games appearance (3rd individual)
With one of the biggest hearts on the floor, there's no stopping Jen Smith. But don't let that fool you, she is one ruthless competitor. This is Jen's 4th trip to the big stage, so she knows what it takes to win, and is not afraid to show it.
Emily Bridgers, Individual Women, Atlantic Region

5th Games appearance

As a perennial Games athlete, Emily is picked as one of the top Americans that can challenge the ladies of Iceland and the two strong women from Down Under. Emily had a strong regional competition, trading places between first and second all weekend, so look for her to continue fighting her way to the podium this year.
Carol-Ann Reason Thibeault, Individual Women, East Region

4th Games appearance
As the top female Canadian athlete coming into the Games, Carol-Ann looks to improve on her best overall finish of 14th in this year's competition. She goes head to head with previous Games champ, Davidsdottir every year at regionals, so she definitely has the confidence to hang with the best in the sport.
Sarah Scholl, Masters 35-39 @sarahschollathlete

2nd Games appearance (4th place last year)

2x regional athlete

This will be Sarah's second year competing at the CrossFit Games in the women's 35-39 division. Last year, she worked her way to an impressive 4th place finish, and is even more dialed in this year. Don't let the Masters competition fool you, these women kick butt. Keep an eye on Sarah this year as she looks to find her way to the top of the podium.
Bethany Shadburne, Individual Women, South Region

2nd Games appearance

Bethany is no rookie to the CrossFit Games competition. After punching her second ticket to Madison this year, look for Bethany to show there's no sophomore slump for her in 2018.
Cody Anderson, Individual Men, West Region

3rd Games appearance

As one of the smallest athletes, Cody is a master of gymnastics. But don't let his size fool you, he is also one of the strongest athletes in the field, making heavy barbells look like a warm up.
Jared Enderton, Individual Men, South Region @jaredenderton

1st Games appearance

Best known by his instagram videos where he is consistently snatching over 300 pounds, Jared is no stranger to the competition floor. He has made an appearance at the regional level several times and this year he finally punched his ticket to the Games. If there's an event with a heavy barbell, make sure you look out for this guy.
Alessandra Pichelli, Individual Women, West Region

7th Games appearance (6th individual)
If you need to move big weights fast, look no further than Alessandra Pichelli. Making her 6th appearance as an individual at the Games, she looks to add more experience to her veteran resume this year in Madison.
Lukas Esslinger, Individual Men, Meridian Region

3rd Games appearance

Lukas is coming to his third Games coming off a solid finish in a very tough and tight Meridian regional competition. Becoming an annual Games qualifier, Lukas is looking to improve on his finish last year, and make 2018 his best yet.
Brandon Luckett, Individual Men, South Region

1st Games appearance

This young Games rookie finds himself on the sports' biggest stage in only his third year of competition. With talent and drive like this, watch out for Brandon to make a big splash at this years Games.
So, are you going to be at the Games cheering on these athletes? We will be, and we'd love to meet you! But whether you'll be there or not, be sure to follow along in our Instagram stories for your chance to win some fun prizes to help you reach your peak performance goals.

Get an inner edge by training based on your biomarkers. We've created this FREE e-Book to help you understand how!
Some other blog posts we think you'll love: