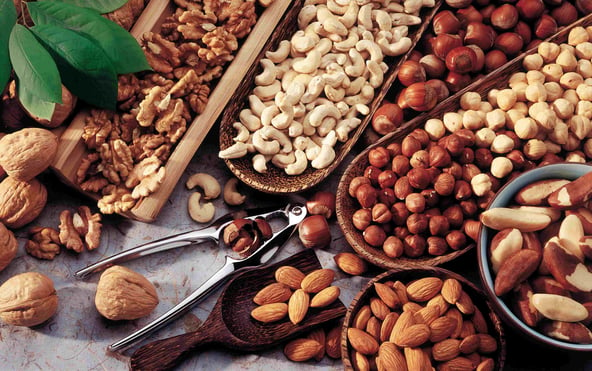 This month, we decided to take a look at some of our most popular recommendations. One that stuck out? Increasing your intake of nuts – it's right up there with eating oatmeal. According to information from the nutrition questionnaire each of our users complete, we've gathered that nuts may be your ticket to improvements in many biomarkers.

As you may know, we link each of our recommendations to the scientific literature that supports it. But, we've gone one step farther—we can now see how our recommendations are actually affecting InsideTracker users! Here, we compare our users' typical intakes of nuts with their biomarker levels. The results speak for themselves: it's time to go nuts!
Higher HDL
Users who reported daily nut consumption (one or more times per day) had significantly higher levels of HDL cholesterol (the good kind!) than those who rarely eat nuts (once per week or less). Nuts are high in polyunsaturated fats like omega-3s, the heart-healthy type of fat that is shown to improve cholesterol levels, particularly HDL.1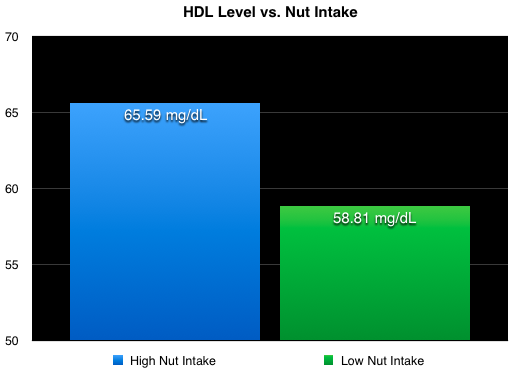 Lower Triglycerides
Users that eat nuts daily have significantly lower triglycerides than users who rarely eat them. So it seems that, similar to HDL, triglyceride levels respond positively to polyunsaturated fat intake.2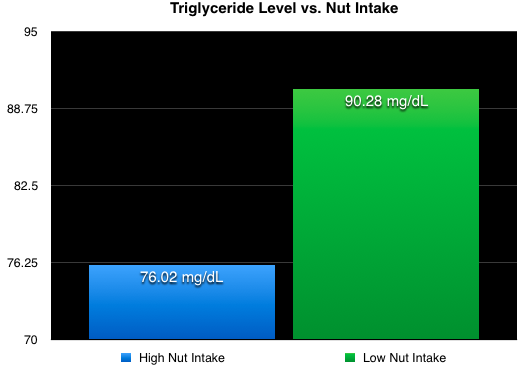 Lower Cortisol
Daily nut eaters also had significantly lower levels of cortisol than people who rarely eat nuts. In addition to polyunsaturated fats, nuts are also high in a different type, called monounsaturated fats, which are associated with lower levels of cortisol.3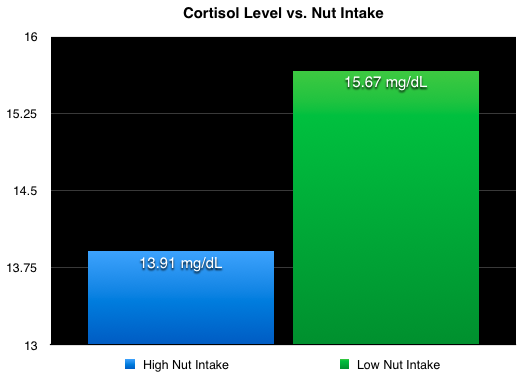 Lower hsCRP
Users who eat nuts daily also had significantly lower levels of hsCRP than users who don't eat them. Nuts are high in magnesium, which has been associated with lower levels of inflammatory markers, including hsCRP.4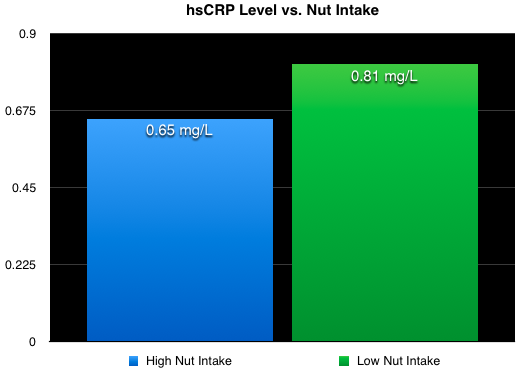 Higher Testosterone in Men
Males who eat nuts daily had significantly higher levels of testosterone than males who rarely eat nuts. This seems to be due to their magnesium content, which is associated with higher testosterone levels. Therefore, we recommend at least one serving per day for men with below optimal testosterone levels.5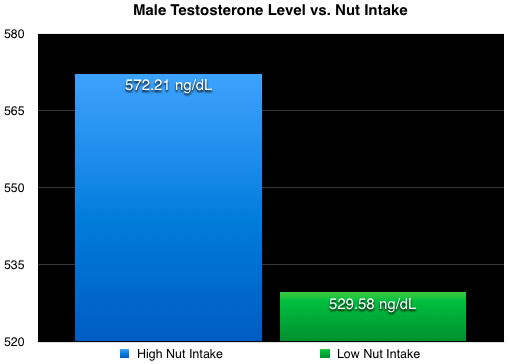 From our perspective, and as the data makes clear, the proof really is in pudding. We're seeing InsideTracker users following our recommendations and optimizing their biomarkers and performance. So reach into your nutrition and training toolbox, and grab some nuts!
Some other blog posts we think you'll love:
References:
[1] Afshin, Ashkan, et al. "Consumption of nuts and legumes and risk of incident ischemic heart disease, stroke, and diabetes: a systematic review and meta-analysis." The American Journal of Clinical Nutrition 100.1 (2014): 278-288.
[2] Clarke, Robert, et al. "Dietary lipids and blood cholesterol: quantitative meta-analysis of metabolic ward studies." BMJ 314.7074 (1997): 112.
[3] García‐Prieto, M. D., et al. "Cortisol secretary pattern and glucocorticoid feedback sensitivity in women from a Mediterranean area: relationship with anthropometric characteristics, dietary intake and plasma fatty acid profile." Clinical endocrinology 66.2 (2007): 185-191.
[4] Yu, Zhi, et al. "Associations between nut consumption and inflammatory biomarkers." The American journal of clinical nutrition 104.3 (2016): 722-728.
[5] Maggio, M., et al. "Magnesium and anabolic hormones in older men." International journal of andrology 34.6pt2 (2011).