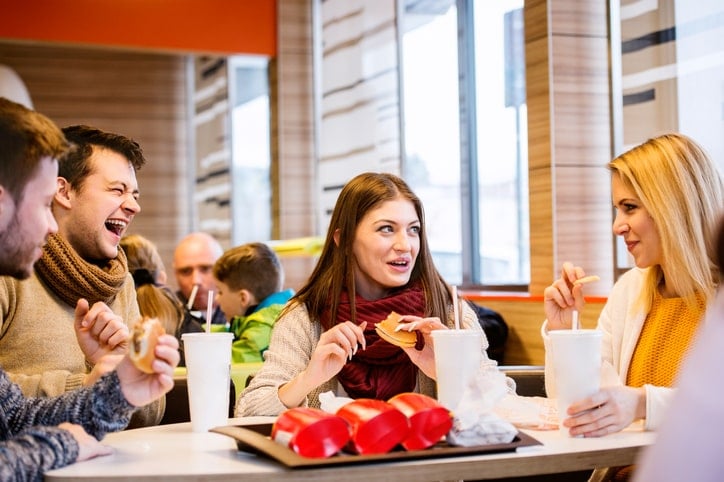 On the road or in a bind for time, and fast food is all that's available? Fear not! We've compiled a list of 10 of the top fast food options, ensuring that all of your hard work and healthful eating habits do not go to waste.
1) Chipotle:
GO FOR the Burrito Bowl or Salad. Carnivores and vegetarians can both rejoice; you are (nearly) free to choose the filling of your affection! Chicken, steak, sofritas, barbacoa, or fajita vegetables are all great choices. (The carnitas have double the total fat and triple the saturated fat content of steak.) Both black beans and pinto beans are excellent high-fiber options, and don't forget to add salsa and romaine lettuce!
HOLD the tortilla! Doing so will save you 300 calories, and 690 mg of sodium. Skip the sour cream and cheese as well, and you'll save an additional 17 g of fat.
YES, NO, MAYBE SO? If you're looking to shave calories, forego the rice altogether. Otherwise, be sure to choose the brown rice in lieu of white rice.
The guacamole is full of healthy fats and will also add creaminess that will keep you from missing the cheese and sour cream. The portion is quite large, so if you are watching calories, ask for guac on the side and share it with a friend.
NUTRIENT PROFILE for a steak burrito bowl with black beans, fajita veggies, green tomatillo salsa, tomato salsa, guacamole, and lettuce:
575 calories, 27 g of fat (19 g from the guacamole), 5 g of saturated fat, and 22 g of carbohydrates, 20.5 g of dietary fiber, 41.5 g of protein, 68% of your Vitamin A daily value (DV), 74% of your vitamin C DV, and 40% of your DV of Iron.
2) Taco Bell:
STICK TO the Fresco menu/board. (This doesn't mean that you can choose anything on the regular menu and make it Fresco. This means you should choose one of the six Fresco items.) All items on the Fresco menu are 350 calories or less and contain less than 10 g of fat.
WHAT THE HECK IS FRESCO? At Taco Bell, fresco means that a scoop of fiesta salsa (aka pico de gallo) replaces all of the dairy products (sour cream, cheese, avocado sauce, etc.) on the item.
WHAT TO ORDER: All of the fresco tacos have about half of the calories of the burritos, and also contain significantly less sodium. This means that for every one burrito you choose, you can instead have two tacos! My choice would be to mix it up, and get a Fresco Chicken Soft Taco and a Fresco Grilled Steak Soft Taco. (Who says you can't have your cake and eat it too?)
Got a craving? Let InsideTracker help you pick the foods you need to achieve your goals!
3) McDonald's:
I'M LOVIN'… the Premium McWrap Chicken Sweet Chili (Grilled). It contains 380 calories, 27 g of protein, and 10 g of fat. It also contains 60% of your DV of Vitamin A and 15% of your DV for Vitamin C. The biggest downside is that it has a golden-arches-scraping high level of sodium, at 1090 mg (45% of your DV).
This McWrap provides a satisfying portion of protein in the grilled chicken, as well as a blend of salad, tomato, and cucumber.
Need a little more? Add an order of apple slices or a side salad to your meal. Though the apple slices are missing their fiber-filled skin, this option is only 15 calories per serving and also provides over 100% of your DV for Vitamin C. The side salad includes a mix of spring greens, as well as tomatoes and carrots, and it is also low in calories but provides 45% of your DV of Vitamin A and 25% of your DV of Vitamin C. Skip the salad dressing, which is filled with hidden calories, fat, and sodium, and instead sprinkle some salt and pepper on your salad.
4) Chick-fil-A:
WHICH CHICK'N I SHOULD BE PICK'N? The grilled nuggets are the way to go. An 8-piece portion of grilled nuggets is only 140 calories, with 3 g of fat, and 23 g of protein. Sodium is significantly less in this item than other items on the menu, and you also get 20% of your DV of vitamin C.
SAUCE OF CHOICE: The Buffalo Sauce is the clear winner, with only 10 calories and 1 gram of sugar per serving.
While the BBQ and honey mustard sauces are only 45 calories, they each contain 9 and 10 g of sugar, respectively. The buttermilk ranch sauce contains 110 calories and 11 g of fat, while the Chick-fil-A sauce has 13 g of fat and as many calories as the grilled nuggets.
MORE GREENS, PLEASE: The Grilled Market Salad is also an excellent choice. With grilled chicken atop a bed of baby greens and romaine, as well as apples, strawberries, and blueberries, the salad has only 200 calories, with 4 g of fiber, and 23 g protein. You also get 10% of your DV of iron, 230% of your DV of Vitamin A, and 70% of your DV of Vitamin C.
BEWARE WHEN DRESSING: Consider the Light Italian Dressing, which only has 25 calories, 1.5 g fat, and 2 g of sugar. The zesty apple cider vinaigrette that comes with the Grilled Market Salad contains 230 calories and 19 g of fat. Even the reduced fat berry balsamic vinaigrette has 16 g of sugar, 110 calories, 16 g sugar, 3.5 g fat, and the fat free honey mustard dressing has 20 g of sugar!
5) Dunkin Donuts:
WAKE UP! The DDSMART Wake-Up Wraps are much better options than the regular wake-up wraps. The best choices are the egg white turkey sausage wake-up wrap and the egg white veggie wake-up wrap. At only 150 calories each, they provide 15% of your DV for Calcium, and a satiating portion of protein.
Egg White Turkey Sausage Wake-Up Wrap: 150 calories, 50 calories from fat, 2.5 g saturated fat, 420 mg sodium, 1 g fiber, 10 g protein. 8% of Vitamin A, Calcium: 15%, Iron 4%
Egg White Veggie Wake-Up Wrap: 150 calories, 60 calories from fat, 7 g fat, 3 g saturated fat, 360 mg sodium, 1 g fiber, 9 g protein. 6% Vitamin A, Calcium: 15%, Iron 2%
Side of Fresh Fruit: Though known better for their donuts and coffee, you can actually pick up fresh fruit from DD, usually found in a basket near the front of the store. Bananas, oranges, and apples are all healthy and delicious choices that you will thank yourself for choosing!
6) Subway:
Select a sandwich that suits your taste buds from Subway's "6 grams or less" menu, dedicated to choices with six grams of fat or less. Follow this advice to create the healthiest Subway sandwich:
BREAD OF LIFE: Choose the 9-Grain wheat or honey oat bread. These are both made with 51% whole grain and are the options with the highest amount of fiber (8 g per foot-long sub). Additionally, these breads contain less saturated fat and sodium than other options.
TONS OF TOPPINGS: Pile on the fresh vegetables! From tomatoes to bell peppers, onions, and spinach, there are a number of vegetable options to choose from. Choosing all of the fresh veggies for your 6" sandwich will take care of two daily servings of vegetables!
HOLD the high-fat condiments and meats, such as mayonnaise, ranch dressing, and pepperoni. Instead, opt for condiments such as mustard or vinegar.
CHEESE PLEASE? If you've skipped the mayonnaise and are craving cheese, be sure to limit the amount of cheese you have (usually to two slices).
It may no come as no surprise that Subway also offers apple slices. If the cookies are tempting you, look away; each one contains over 200 calories. Choose the apple slices instead.
7) Wendy's:
QUALITY OPTIONS: Though Wendy's now boasts a variety of tasty-looking salads, the healthiest choice is the Asian Cashew Chicken Salad. A full-size salad contains 380 calories, 36 g of protein and 6 g of fiber that will help keep you feeling full. The Asian Cashew Chicken contains nearly 33% of your DV for potassium, 110% of your DV for Vitamin A, 90% of your DV for Vitamin C, and 20% of your DV of iron. Additionally, it is topped with roasted edamame and cashews, grilled chicken, and a light Asian chili vinaigrette. The nuts provide healthy polyunsaturated and monounsaturated fats.
The main downside to the salad is its high sodium content, with 960 mg per serving.
Add an Apple a Day: Wendy's also offers apple slices, and they keep the fiber-filled skin on! At only 40 calories per serving, the apple slices from Wendy's will add 90% of your DV of Vitamin C.
8) Popeyes:
ORDER the Blackened Tenders and corn on the cob. Popeyes' Blackened Tenders are batter-free and not breaded, yet still contain the Popeyes flavor. Rather than being deep-fried, they are flavored with Cajun seasoning. This saves you a significant amount of calories, as well as saturated and trans fat. An order of the blackened tenders consists of three pieces, and contains 170 calories, 26 g of protein, and only 2 g of fat, and 0 g of saturated and trans fat.
An ear of corn on the cob from Popeyes is 190 calories, and contains 2 g of fat, as well as 4 g of fiber and 6 g of protein. Corn also contains antioxidants and phytochemicals, as well as many B vitamins, and minerals such as magnesium and iron.
9) Burger King:
Whether you are vegetarian or not, you can HAVE IT YOUR WAY at Burger King. Choose either the Tendergrill Chicken Sandwich or BK Veggie Burger.
Order the Tendergrill Chicken Sandwich without mayonnaise. Ask for extra tomatoes and lettuce for additional fiber and nutrients. The white chicken meat is flame grilled, rather than fried, and is not breaded. This sandwich contains 320 calories, 5 g of fat, 2 g of fiber, and 31 g of protein, which keep you feeling satiated.
The BK Veggie Burger has found favor with both vegetarians and omnivores alike. A Morningstar garden veggie patty is served with lettuce, tomatoes, onions, pickles, and ketchup on a sesame seed bun. Again, skip the mayonnaise to save both calories and fat. With all of the aforementioned ingredients and holding the mayo, this sandwich contains 320 calories, 8 g of fat, 5 g of fiber, and 21 g of protein. The combination of fiber and lean protein will help keep you satisfied.
10) Starbucks:
It's no secret that many of Starbucks' drinks options contain as many calories as an entire meal. However, there are some stand-out options that you can pick up when on the go.
The Chicken & Hummus Bistro Box contains hummus, grilled chicken, grape tomatoes, cucumber, and whole-wheat pita bread. Each box contains 270 calories, 7 g of fat, 0 g of saturated or trans fat, and also provides 4 g of fiber, as well as 20 g of protein. This box will also provide 30% of your DV of Vitamin C and 10% of your DV of iron.
The Zesty Chicken & Black Bean Salad Bowl consists of grilled chicken, black beans, roasted corn, jicama, tomatoes, feta, spring greens, and quinoa with a mild chili vinaigrette. A serving of this salad contains 360 calories, 15 g of fat, 2.5 g of saturated fat, and 0 g of trans fat. This salad will help keep you satiated with 8 g of fiber, as well as 19 g of protein. Additionally, it provides 50% of your DV of Vitamins A and C, and 20% of your DV of calcium.
Starbucks also offers a Seasonal Harvest Fruit Blend, which is simply a combination of of seasonal fruit. While the ingredients vary by season, they may contain apples, grapes, orange, kiwi, or strawberries. This is a great source of Vitamin C, dietary fiber, and will help satiate your sweet tooth.
Now what are you waiting for? Bookmark this page! The next time you only have fast food options available to you, pull this list out, and make the healthiest decision you can.
Tell us... What are your go-to healthy fast food options?
Related content: