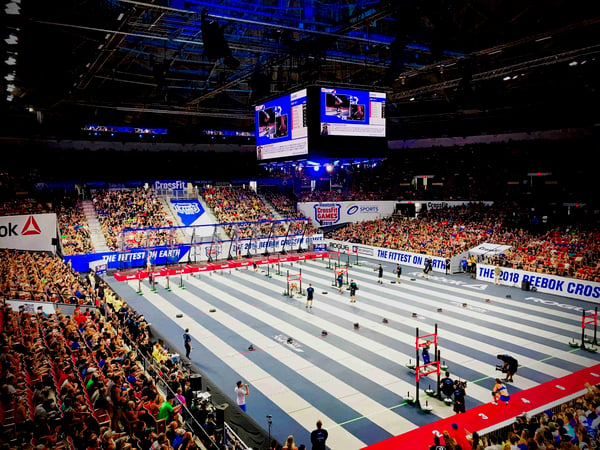 If you have your eyes and ears on the CrossFit® scene at all, you've probably heard of the *big* changes that occurred to the competitive season over the past several months. It's hard to miss the gripes and complaints coming from the internet on the drastic changes (which seemingly came out of nowhere) in the early fall, as they've left many athletes puzzled, confused, scared and maybe even a little angry. As with any change, growing pains are to be expected. But there are some things that athletes can do to smooth over the transition and set themselves up for success for the 2019 Games season.


Out With the Old

If you have no idea what all this fuss is about, let's first get you up to speed. Previously, the CrossFit® Games season began at the end of February each year with the Open. The season consisted of a five-week-long competition for anyone around the globe. One workout was released each week, giving participants five days to post their best score. At the end of five weeks, the top performers earned an invitation to compete at one of several Regional Competitions placed all over the world. The top five places at each Regional Competition would then qualify to throw down at the Super Bowl of CrossFit®, the Games.

The New Look of the Games Season

News slowly leaked of the competitive season's reorganization shortly after the 2018 Games. There still, however, is a lot of confusion, so here's what we currently know for the 2019 season: The Open will take place during the usual time slot (for this season, at least). But really, that's about the only thing that will remain the same -- and now the Open matters more than it ever has.

How to Punch Your Ticket to the 2019 Games
Be crowned your country's national champion via the Open. (First place in any country with at least one CrossFit® affiliate or Box)

Be in the top 20 worldwide in the Open

WIN one of 16 sanctioned Games qualifier events happening from December 12th through the end of June.

Pray, beg or plead to the gods! It has been rumored that there will be up to 4 "wild card" spots given to anyone CrossFit® HQ deems fit (yes, pun intended).
So if you're doing the math here, yes, there will be roughly 200 male and female competitors at the Games in 2019. The structure of how the Games will be handled has yet to be released, so we'll sit tight and see. For teams, your road to qualifying only goes through the sanctioned events, and there is no longer a same-gym restriction, which now allows athletes from different geographical locations to team up together. For you Masters or Teen competitors, consider yourself lucky, as your seasons appears to be mostly unchanged.
What this Means for the Athletes Now
Well to start, if you are from a country that has a pretty strong presence in CrossFit®, like the United States or Canada, you might be discouraged by this. There is only one spot available to athletes from these countries out of the open which makes for an extremely competitive field. On the other side of that coin, if you are from a country that seemingly gets passed over during the Open and Regionals, your opportunities have opened up. Another noticeable change is that, besides the Open (which is performed in your gym), the various sanctioned events will require much more travel, resulting in more significant time and financial commitments.
Digging deeper, it is apparent that the competitive season just got significantly longer and likely harder. For a Games athlete in the past, making it to the Regional Level after the Open was probably not a struggle. There was perhaps increased focus and training to peak for Regionals, but still, your primary goal was to be ready to perform at the Games. In the new format, sanctioned events start in December and run up until the end of June. If you're lucky enough to punch your ticket to The Games early, you have a significant advantage over those who have to repeat several qualification events to secure their spot. Athletes and Coaches will have to select what events to participate in carefully and cycle training to peak several times a year, while still leaving energy to compete at the highest level come August in at the Games.
How Looking Inside Can Give You the Edge Over Your Competition
Because of these added changes, performance optimization has never been more critical. With athletes having to be in top form several times this season, the balance of top-of-the-line fitness and efficient recovery will prove to be the difference between making it to the Games versus watching it on TV. There is no better way to optimize competition day performance than by getting your blood tested and getting that Selfie from the Inside. Here at InsideTracker, we can help optimize your training and nutrition before you hit the competition floor and can maximize your recovery to be ready for the next qualifying event if need be.
What to Look for in Your Blood Test to Optimize Performance
Lifestyle Habits That Affect Game Day Performance and Everyday Life
Implementing simple lifestyle habits can keep your body primed all year long. Getting 7-8 hours of quality sleep, drinking your recommended dose of water, and fueling your body for performance will optimize yourself both in season and out.

Unless you're lucky enough to have these big competitions in your backyard, travel will most likely be unavoidable. This, combined with your increased physical and emotional stresses, can lead to the greater chance of getting sick. So keep those white blood cell numbers optimized by eating healthy fats, and not neglecting immune-boosting nutrients like vitamin D and magnesium.

Develop a routine for getting your blood work done. If you're preparing for a big event, testing 2 or 3 weeks before will show if you're ready to go, while still leaving some time to adjust to any last minute recommendations.

Testing within a week after a big event can give you valuable information for recovery. Knowing exactly how your body responds to a stressful competition can help program recovery into training and preparing for the next event if you find yourself having to participate in multiple sanctioned qualifiers.
With any change comes stressful adjustment periods. By focusing on the things in your control, you can set yourself up for success in the new Games season. By tracking your blood and optimizing performance through your recommendations, nothing will be left for second-guessing. The only thing left for you to do will be to perform!
Learn how your biomarkers affect your body in this FREE e-Book download!