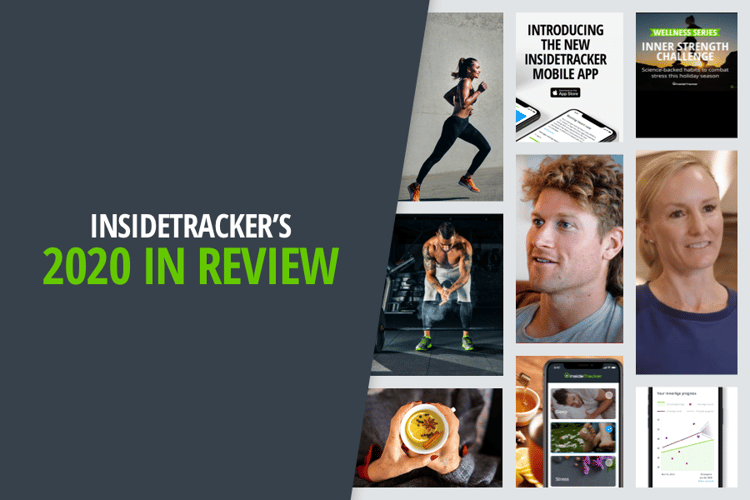 There is no denying that 2020 has been one of the most trying years in memory. We've had to change our daily lives and rely on each other more than ever. But as always, with these challenges and changes has come adaptation and innovation, both at the personal and societal levels. At InsideTracker, we've felt these changes and did our best to support our users and community. We rolled out new features and products, new campaigns, and new support systems, all in the name of wellness, longevity, and immunity. Here are our highlights from 2020—and what to expect in the New Year.

This year, we had a focus on immunity and healthy aging—and getting your results to your fingertips
We created the InsideTracker Immunity Panel
Early in the year, the COVID-19 pandemic took hold of our daily lives and how we approached our health and wellbeing. But InsideTracker has always stood for a proactive approach to wellness, so we felt a responsibility to step up and do our part to keep our community as prepared as possible. In response to the pandemic, we created InsideTracker Immunity—a blood panel that aims to assess key aspects of your immune system, identify any weak points, and provide insights and research-backed recommendations to improve them. InsideTracker Immunity tests biomarkers from two main groups: those that directly affect immune function, and those related to stress response and recovery (two things that can significantly impact immune response). Our goal was to support your immune system and equip your body to respond to future infections. And InsideTracker users are taking advantage.

Though it was created in short order, the InsideTracker Immunity panel is here to stay—and is more relevant than ever during these cold winter months. You can read more about InsideTracker Immunity (and get it for yourself) here.

We launched InnerAge 2.0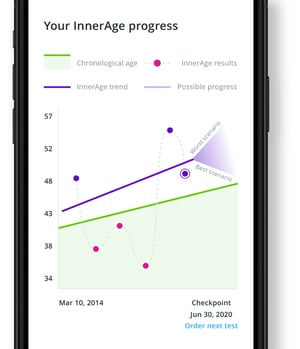 After years of research and development, our team reimagined, redesigned, and reengineered the pioneering product InsideTracker first launched in 2015. With greater accuracy and precision, adjusted sensitivity, and more sophisticated tracking and visualization tools, we announced the new InnerAge 2.0—one of the most innovative systems available to optimize healthspan and longevity.
Much like the research behind it, InnerAge 2.0 evolved considerably from to the original version. First, we increased the number of biomarkers in InnerAge 2.0 by over three times, providing more personalized and accurate estimates of biological age. We also updated our model to deliver even more precise InnerAge calculations, including a feature that makes your InnerAge more stable and less sensitive to daily fluctuations in individual biomarkers. And like all InsideTracker tests, InnerAge 2.0 is always improving—the new model uses machine learning to ensure the InnerAge algorithm constantly updates to reflect our growing dataset. Want to learn more about the new and improved InnerAge? You can get all the details here.
We released the first ever InsideTracker app for iOS
And lastly, the biggest update to the InsideTracker experience landed in the final month of 2020: the new InsideTracker Mobile App. With its release, the InsideTracker app became the first ever platform for integrating blood, DNA, and fitness tracker data into a single set of health and wellness insights. The app was created around a simple goal—to provide limitless access to your health and wellness data, help keep you on track, and build the sound habits you need to reach your health and wellness goals. A host of brand new features were purpose-designed to provide a clearer and more comprehensive picture of your health profile, provide real-time and immediate feedback, and put more customization and control in your hands.
The InsideTracker Mobile App introduced new features and improved upon existing ones. With the new app, InsideTracker users are now able to integrate activity tracker data with existing blood and DNA data—an upgrade that allows your InsideTracker results to update on a daily basis! This daily update is illustrated in another brand-new feature called the Wellness Score: a single number from 0-100 that succinctly summarizes your health status.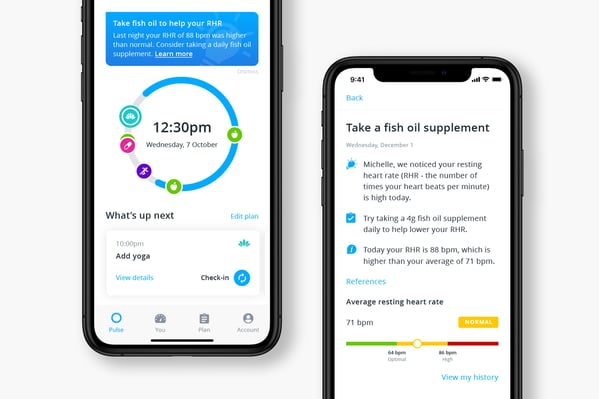 The updates with the new Mobile App don't end there. Additional features include Pulse (a dynamic dashboard at the heart of the app and your Action Plan), ProTips (daily nuggets of laser-focused recommendations tailored to your latest activity tracker data), and Impact Scores (a summary of the effectiveness of each recommendation). To get the complete low-down on the new InsideTracker Mobile App, you can check out our comprehensive blog all about it. InsideTracker users can also download the new app on the Apple App Store.
We updated the science that powers InsideTracker according to the latest research
We have new recommendations
If you're an InsideTracker user, you may have noticed new recommendations on the platform related to nutrition, exercise, supplements, and lifestyle. For example, research has shown that drinks like black tea, beetroot juice, and cranberry juice have antioxidants and polyphenols that can improve cognition, heart health, athletic performance, and inflammation. We've also added recommendations for recovery during and after exercise, including information about rest periods between sets and foam rolling post-workout. We've also expanded current recommendations on the platform to update our goals and to make our recommendations more approachable and actionable.

We upped our protocols to solidify our scientific integrity
To keep our recommendations fresh and on the cutting edge for years to come, we've built an internal tool to systematically analyze findings from scientific publications. What's the result? Our scientific rigor and integrity has increased and our risk of bias in the recommendations we present to users has decreased. This new tool allows our scientists to present recommendations using the most up-to-date literature (including nearly 1,000 new publications in 2020 alone) and the highest scientific standards.
We worked with inspiring people and like-minded brands
With events cancelled, we helped athletes optimize their time off the course
As the pandemic unfolded, athletes around the world watched their highly-anticipated races get cancelled. While these cancellations were necessary in helping to stop the spread of COVID-19, understandably, a number of athletes had expressed sincere disappointment and felt unsure of how to approach life without the structure and planning training provides. We felt a responsibility to support our athletes during these confusing and difficult times, and worked closely with them during these off-months to keep them on track towards their long-term goals. Des Linden, Olympic athlete and 2018 Boston Marathon Winner, was highlighted in the New York Times for her training pivot in response to the cancellation of the 2020 race—and discussed how InsideTracker fit into her plans. We also talked to professional athlete Hunter McIntyre about his experience with InsideTracker and how his approach to biohacking has given him an edge over his competition.

We've also been working with athletes transitioning into life post-competition. Shalane Flanagan, Olympic medalist and winner of the 2017 TCS New York City Marathon, joined Team InsideTracker this year. Though she's no longer competing, Shalane is still extremely busy as a new mom, coach, author, and more. She's integrated InsideTracker into her wellness routine to stay on top of her wellbeing and to support her immune system year-round.

Our work with athletes this year hasn't been limited to individuals—we've also been working with teams and clubs to guide the off-seasons and recovery of entire groups, including On Athletics Club and Tinman Elite in Boulder and District Track Club in Washington DC. InsideTracker experts also offered virtual guidance to camps and summits, including at the Suunto Elite Team camp where we spoke about nutrition to 50+ elite athletes and at the Go Far Shop Boulder virtual panel.
We created some fun content with our community members
Sometimes, our work with members of our community manifested as fun and informative content on social media and beyond. We hosted many giveaways, including one with professional athlete and global fitness competitor Cole Sager. We also worked with Dave Asprey, creator of Bulletproof Coffee, New York Times bestselling author, and ultra-biohacker, to create a podcast episode and social content, all focusing on how Dave has used InsideTracker to biohack his health. We even sat down with Rich Froning, professional athlete and four-time Fittest Man on Earth, during an InsideTracker blood test to talk about his approach to intermittent fasting.
We forged partnerships with other health and wellness companies
In addition to our individual partnerships, we've also worked closely with brands and companies with similar ethos and objectives to our own. We worked with Jaybird, designers of headphones for athletes and adventurers, to explore the science of music on stress, cognition, and performance. We also worked with our old friends at GU Energy Labs to create the Ageless Athletes program by kicking off a collaborative research project on a dozen athletes age 40-70+. With these partnerships, we've been able to expand the InsideTracker community and help those within it connect to each other in a meaningful way while we keep our physical distance.

And we focused on simply supporting our community
Though many of our partnerships have been official ones, we've also focused on simply supporting our community members during this difficult year. First, to thank those in our community who keep it running, we created an exclusive offer for frontline workers to arm them with an added layer of protection for their wellbeing. We also created an online group available to all InsideTracker users, the InsideTracker Insiders Facebook Group. It's served as a space for individuals to connect with each other and discuss topics around wellness, longevity, personalized nutrition, and more. We've also hosted online classes and forums about topics ranging from meditation to gut health and everything in between to help arm our community with wellness-supporting knowledge through our InsideTracker Inner Strength Challenge. A key goal this year has been to democratize knowledge about wellness, immunity, and longevity across our community—and these resources have been key in reaching that milestone.
We expanded our customer support network
As our customer base grew this year, so too did our systems and team dedicated to supporting InsideTracker users as they onboard and navigate the platform. We've worked to roll out easier and quicker scheduling and retesting options, a dedicated SMS support channel, and a new suite of on-boarding tools. We also worked tirelessly to get testing back online in New York, New Jersey, and Rhode Island—users there can now get InsideTracker blood tests done in the comfort of their own home. Our team is always there to support you, 2020 and beyond.

And lastly, our users made some incredible strides in 2020
InsideTracker's data science team looked at our database to pull some of the top user stats from 2020—including most improved biomarkers, most common recommendations, and top-selected goals. Because, though circumstances may have disrupted plans or goals, there are still millions of little wins to be celebrated. Here are some of the user-generated highlights from 2020, and things to strive for in 2021.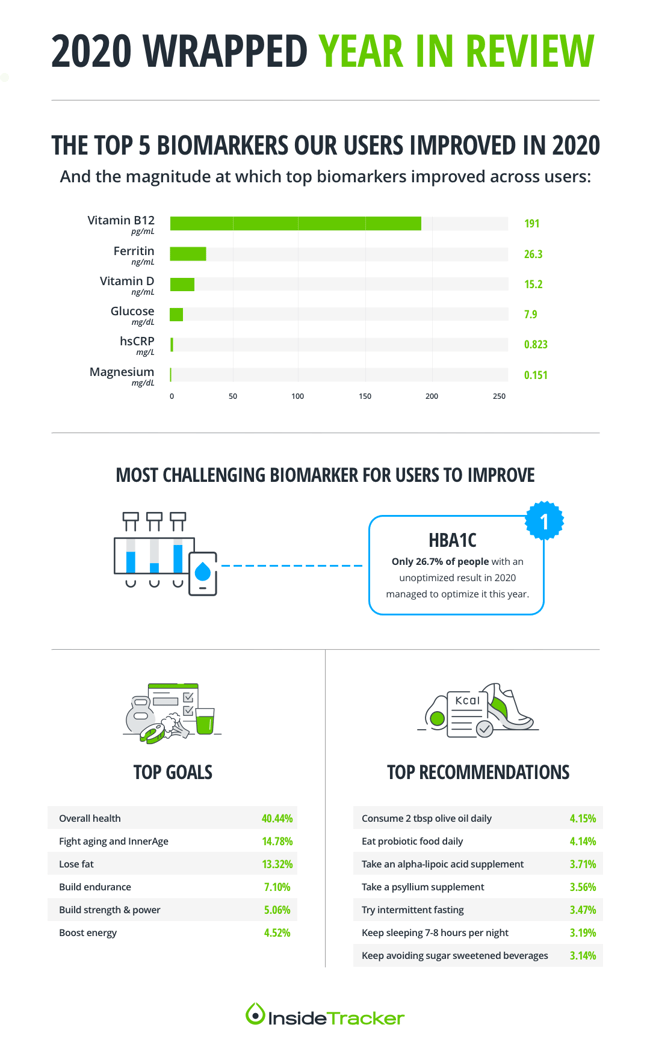 A summary of InsideTracker's high points of 2020
We created the InsideTracker Immunity Panel to help support your immune system, identify its weak points, and fill any gaps
We launched InnerAge 2.0, the most cutting-edge tool for estimating biological age and understanding your body's healthspan
We released the InsideTracker Mobile App, a new tool to integrate all of your biometric data and get real-time updates on your wellbeing
We updated the science behind InsideTracker to harness brand-new research and cutting-edge algorithms
We worked with InsideTracker athletes to keep them healthy, safe, and on-track during their extended off-seasons
We worked with numerous groups, teams, and brands to help fortify the bonds of the InsideTracker community and share wellness and nutrition resources
We bolstered our customer support resources to help users on-board and navigate the InsideTracker platform
We celebrated the little wins, both within the InsideTracker team and among our greater community
A few things to look forward to in 2021
1. Gut Health goal: Recent scientific evidence describes the relationship between the gut microbiome and many characteristics of health, so in 2021, InsideTracker users will have the option to select a gut health goal and learn more about how to optimize the markers related to gut health.


2. New biomarkers: Recent scientific evidence points to body composition markers (e.g. body fat percentage, waist circumference, and waist-to-hip ratio) as markers that can provide insight into current health status. By providing more information about body composition markers, InsideTracker can bring you even more personalized recommendations. So in 2021, we plan to add additional physiomarkers to the InsideTracker platform, giving you additional markers to strive to improve in between blood tests.

3. Updates to the InsideTracker app: In 2021, Android users can expect to see the InsideTracker app in their app store. All users will also be able to integrate data from additional fitness trackers to give you biometric feedback in real time.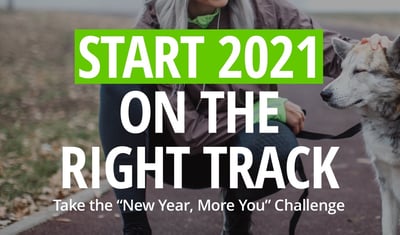 ---

Julia Reedy, MNSP
Julia is a Written Content Strategist & Editor at InsideTracker. She loves to use her experience in cutting-edge nutrition research and writing to spin complex health and nutrition topics into clear, approachable info everyone can relate to. As an inquisitive food shopper, she's constantly reading ingredient lists—and leaving shelves of backward products in her wake.

---