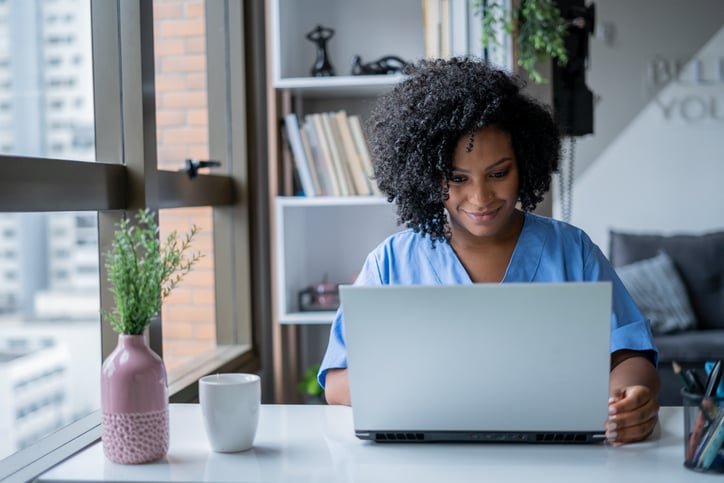 Your yearly physical at a doctor's office isn't the only time or place where you can get a blood test. Several labs and companies now offer blood testing services that can be purchased online, giving you greater accessibility and freedom of choice when it comes to this important method of measuring your health. And tests like those provided with InsideTracker's plans even go beyond what you'd get with traditional blood testing, including more comprehensive blood panel choices and important context to what your blood biomarker levels mean for your health and vitality.
Read on to explore the benefits of ordering your next blood test online and learn how the process works.

Why opt for an online blood test service?
It's convenient: Whether you're on the go or at home, finding a blood test online is often easier than going through your doctor's office.

You can choose which tests are right for you: It's not uncommon to receive pushback from your healthcare provider about getting certain tests done. Equip yourself with the data most relevant to your health goals by scheduling a blood test online.

Access to your results: Online services provide you with your blood test data in a safe, and secure online portal that's easily accessible once your blood test results are analyzed.

Plan ahead for ongoing optimization: A blood test isn't a one-and done analysis. Blood biomarkers are dynamic and shift over time in response to diet, lifestyle, and other physiological changes. Significant changes for some biomarkers take about three months to appear in bloodwork. Services, including those offered by InsideTracker, let you bundle multiple blood testing plans so you can plan on a routine blood testing schedule over the course of a year or so (while reducing the cost per blood draw).
How it works
Blood testing is made easy with InsideTracker—just purchase your plan, schedule your appointment, get your blood drawn, and access your results.
Let's walk through these simple steps.
1. Order your blood test panel
InsideTracker offers a number of blood testing plans to choose from. Depending on your health goals, biomarkers of interest, and your budget, you can find a panel that's right for you.
Ultimate Plan
InsideTracker's most popular and comprehensive plan includes an in-depth analysis of up to 48 crucial biomarkers that create a detailed and holistic snapshot of your health. Whether you want to improve athletic performance, extend longevity, or improve your overall wellness, the Ultimate Plan is your all-encompassing solution.
The Ultimate Plan also includes hormone testing for essential markers of women's health including, estradiol, progesterone, thyroid stimulating hormone (TSH), and DHEAS. For males, hormone testing includes free testosterone and TSH. All Ultimate Plans also include testosterone and sex hormone binding globulin.
InnerAge 2.0
This plan analyzes 17 biomarkers for men and 13 for women to calculate your biological age (aka your InnerAge). Aging occurs at different speeds for different people, and the date listed on your driver's license might not represent your body's internal age. InnerAge 2.0 is a plan for people looking to age healthfully, adding more years to your life and life to your years.
Blood Results Upload Plan
Already have results from a recent blood panel? With the Blood Results Upload Plan, you can share your test results with InsideTracker to get the same level of analysis and actionable recommendations available in our Ultimate Plan.
Note: The Blood Results Upload and Home Kit are the only products available internationally.
To learn more about InsideTracker blood tests including supported health goals of each plan, what you'll get when you purchase, and FAQs, visit our Plans page.
2. Schedule your blood draw, then visit a Quest lab or do a mobile blood draw
After you order an InsideTracker plan, it's time to schedule your test at a local Quest Diagnostics lab or through a mobile blood draw provider. No matter where your blood draw takes place, the actual blood collection process is similar. Always try to schedule a morning appointment, fast for 12 hours prior, and hydrate with water before the blood draw. This article outlines what you can expect during the appointment.
Quest Diagnostics
If you're getting your blood drawn at a Quest Diagnostics lab, you will be sent scheduling instructions for your appointment. You can use this search tool to locate a Quest Lab nearest you, then select 'Schedule Appointment' and 'All Other Tests' to locate the most convenient location.
In addition to adequately preparing for your blood draw, all you'll need to bring with you to your appointment is a photo ID. That's it! You've already paid for your test with InsideTracker, so no additional payment of insurance information is required at the lab.
Mobile blood draw
If you live in the United States or Canada and you prefer to have a phlebotomist come to your house to draw blood, you can schedule your home blood draw by logging into your account, clicking "Use test" on the top right of the screen, and then selecting "Schedule my test". From there, you'll receive instructions on what to expect during the blood draw.
Once ordered, the Mobile Blood Draw service reaches out directly to you within five business days to schedule a time and location for the blood draw.
Note: Customers in Canada or the US states of NY/NJ/RI/HI are eligible to purchase any of our blood plans, however, a Mobile Blood Draw is required. This requirement is due to a law that local facilities can't perform any 3rd party discretionary bloodwork.
3. Access your results
After your blood has been drawn, you will receive your complete analysis back within five to seven business days, at which point you can set up your Action Plan. InsideTracker plans include personalized recommendations that take into account your biomarker measurements, physiodata, DNA (if you opt to purchase or upload DNA test results), and answers from your Health Profile.
4. Plan for your next test
InsideTracker recommends getting a blood test every three to six months, as some biomarkers take that long to significantly respond to lifestyle changes. Comparing blood work taken more than six months apart makes it more challenging to decipher what in your life may have had the most impact—positively or negatively—on your biomarkers, and some recommendations may no longer be applicable or necessary if your biomarkers shifted significantly.
Can you share results with your doctor?
Yes! You can share your blood test results with your physician by logging into your web account (not the app at this time). Particularly when it comes to biomarkers that are deemed "high risk" for being notably above or below the normal reference range., results from your lab tests can provide data to support a conversation about concerns or questions you have with a trusted medical professional. InsideTracker's analysis of your bloodwork is not intended to provide medical advice, diagnosis, or treatment. Therefore if one of your biomarkers does fall outside of the normal range, your results will encourage you to reach out to a healthcare professional.
You can review your results with your doctor by accessing your InsideTracker account, and you can feel confident in the security of your data since InsideTracker is fully HIPAA compliant and SOC 2 certified.
Key takeaways
Online blood tests offer convenience, freedom of choice, and accessibility when scheduling your next blood draw.

You can purchase a blood test online through InsideTracker, schedule your appointment or complete an at home finger prick test, get your blood draw, and access your results.

Sharing results with your doctor is easy and can help facilitate important conversations about the state of your health.

InsideTracker offers a variety of plans to meet your blood testing goals, including the

Ultimate panel

for the most comprehensive view of your health, InnerAge 2.0

for insight into your biological age, and the Blood Results Upload

plan when you have recent blood test results that you'd like to work to optimize for a healthier, longer life.