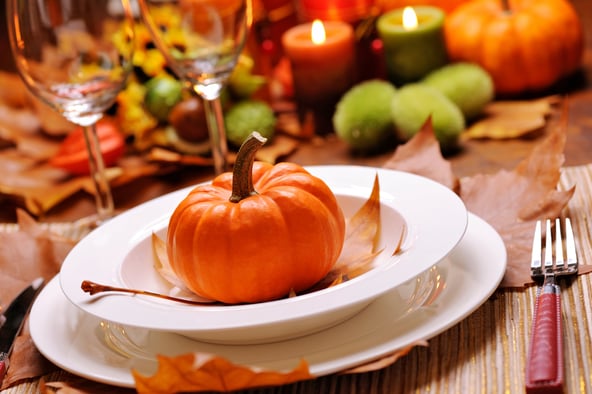 Trick or treat! Halloween marks the beginning of a long season in which to eat, drink, and be merry. For many of us, this means indulging a bit more than we normally would, skipping a workout here and there, and maybe foregoing a salad for a bowl of soul-warming pasta.
Add that to falling temperatures and a desire to curl up under the covers, and you have a recipe for diet disaster on your hands. The dreaded winter weight-gain can creep up quickly, but so can subsequent springtime weather, when we begin to shed the layers only realize it's a bit harder to shed those extra pounds. Where do we end up? Back in the gym working it all off...So, let's end that vicious cycle before it begins, with some good-for-your body recipes that are season-friendly. We've enlisted the help of our Registered Dietitians, Laura Ligos and Ashley Reaver, to whip up a devilishly delicious Halloween meal.
This menu will trick your body into thinking it's having a treat...
Crazy Carrot Zucchini Fritters
Good for: HDL, ALT, Cortisol, and DHEAS
This delicious fritter is a great spin on a classic vegetable. The crispy texture of this side makes it a great pair for almost any dish. You'll love the pop of paprika and the extra Vitamin A and folate this fritter will add to your day.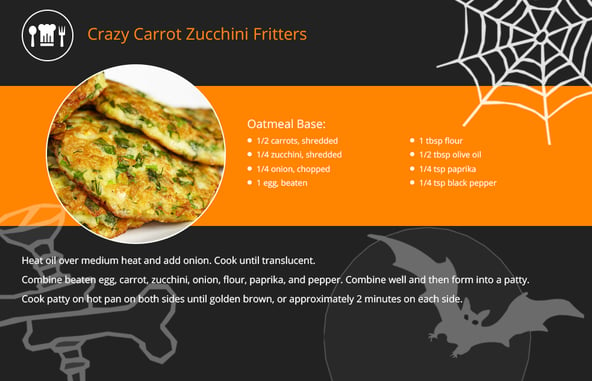 Download this recipe
Midnight Macaroni & Cheese
Good for: Calcium, Glucose, LDL, and Triglycerides
Things are not always as they appear! Using chickpea pasta and cottage cheese ramps up the protein content and reduces the saturated fat while not skimping on creaminess or flavor. The addition of broccoli allows for a larger portion size and adds more fiber.

"Fried food" that is also good for your cholesterol? It must be a hoax! These crispy thighs come with a flavorful oat topping that won't leave you pinning for it's deep-fried cousin.

Pumpkin-Coconut Butter Cups (nut free!)

Good for: hsCRP and DHEAS

Leave those sugar laden Halloween treats in the grocery store and instead make these quick and easy Pumpkin Coconut Butter cups. By using dark chocolate, you will enjoy a nice indulgence of iron, magnesium, and antioxidants, and you can enjoy this sweet treat without the sugar hangover.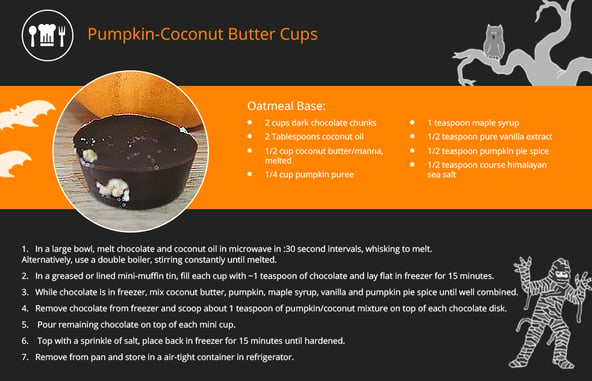 Download this recipe
Plan on adding any of these tricky treats to your own holiday table? If you do, we want to hear from you! Share your pics, recipe tweaks and stories of happy tastebuds with us at contactus@insidetracker.com!
Wondering what ALL of your biomarkers mean? We've created this handy biomarker e-book for reference—it's FREE & it's yours to download!
Some other blog posts we think you'll love: