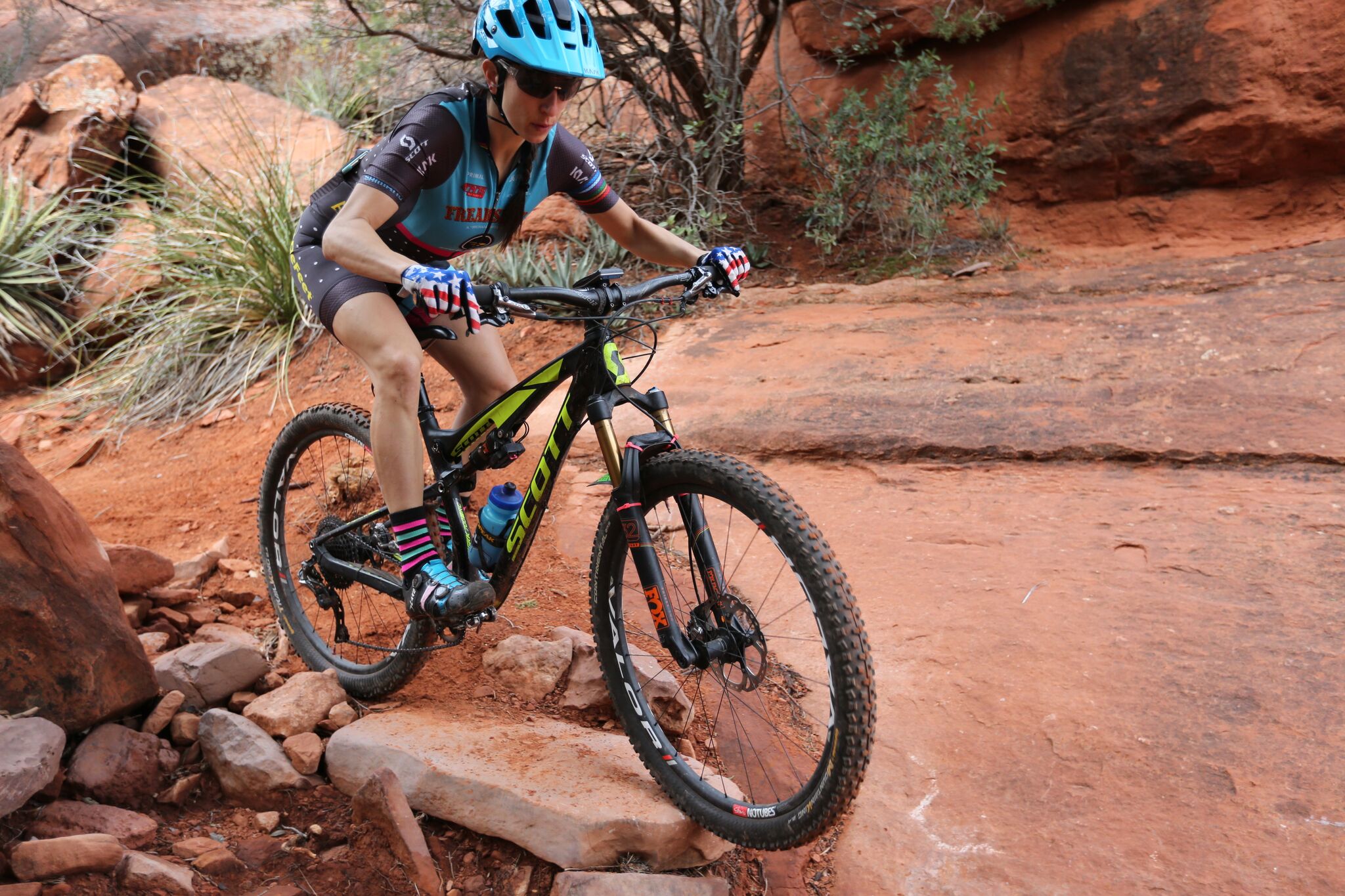 Sonya Looney is an outdoor adventure athlete from Albuquerque, New Mexico. She's the 2015 24-Hour Racing World Champion, a 4-time US National Champion, a USA Marathon World Championships Team member, a 2-time Breck Epic Stage Race Winner... the list goes on. She's also a plant-based eater. How does she manage to snag these titles (and more) while fueling only with plants? We wanted to know – so we asked!
Hey Sonya! Let's jump right into it: how did you get into the professional ultra-endurance world?
"I was on a cycling team in Boulder, Colorado during grad school starting in '05-'06, where I was getting my Master's in Biomedical Instrumentation. I started a blog in 2007 and I wrote a review on a backpack. It sent so much traffic to this company's website that they wanted me to be on their team... so I joined! It was Topeak-Ergon and it was the first real pro team that I had ever been on. I was traveling around the country, bringing my bike with me, and building a national community. I learned a lot about marketing, the industry, and what it means to be a professional athlete.
"I eventually switched from cross-country racing to ultra-endurance racing in 2010 and raced the 'Breck 100' – my first 100-miler. But I wanted to do multi-day races to experience more trails and more culture, so I started writing feature stories for magazines and traveling around the world racing. I've started winning races around the world, including the World Championship in 24-Hour Racing, since changing my diet."
Tell me more about that. What was the timing of it, and what changed your thinking towards nutrition?
"My diet before was good. I avoided most processed foods. I still ate chicken, fish, and some cheese. I also put olive oil on everything because I always read that it was 'healthy.' I met my now-husband in 2012 at the 'BC Bike Race' in Vancouver, and when we started dating and he said he ate a plant-based diet, my immediate reaction was "ugh, not another vegan." But, he really recommended it so I did my own research reading medical journals and other people's work. I was convinced.
"I was nervous about changing my diet as an endurance athlete because I didn't want to become malnourished or for my performance to drop, but I decided I needed to go all-in in 2013. The transition took me about a month, and after, my performance got better, I lost some weight, and my recovery was better. Plus, I was just faster. The most surprising thing to me was oil; I don't demonize oil and I eat it, but I had excess oil from putting it on pasta, cooking with it, etc. Now, I sautee vegetables with broth or wine."
You've previously mentioned a kind of a stigma against 'vegans' and 'vegetarians.' Did you experience that? Did you face any backlash when you went public with your new eating habits?
"The interesting thing was that I didn't tell anyone I ate a plant-based diet until this year – when I had already been doing it for three-and-a-half years. I didn't want to alienate people. I was afraid people would think I was judging them for what they ate, and that people would judge me for what I ate. Food is a really sensitive topic.
"But no, I actually have not received backlash. Instead, it's people telling me that the way I talk about all of this is really approachable. They feel like they can try it. One guy I talked to said, 'I'm a meat guy, all my friends know me for my barbecue, and now what am I supposed to do? My identity is shifting!' I said, 'That's ok, your friends will still like you.'
"Yes, food's a really sensitive thing, but you don't have to label yourself. Just say you eat healthy. If you struggle with eating at friends' houses because you're afraid of alienating yourself, just say you're going to bring a dish to share."
With that in mind, tell us about how you plan your meals and prepare for race day?
"I plan my meals on a weekly basis and cook two or three at once. The key to my success is always having the right food in the fridge. And that's the case for anyone – you don't have to be plant-based, but if you don't have healthy food in the fridge, what are you going to go for? I also have a lot of cookbooks.
"For race day, I always eat the same thing: bread, almond butter, and dates. When I'm at a stage race, often times I'm in a country where I can't control what's going to be available because it's catered. You can find bread no matter where you are, but I always try to bring my own almond butter. There's only so much stuff you can bring; a lot of the time, a race allocates you one duffel bag for the whole week, so it's hard to bring everything you could possibly need for food and racing, but generally, you can make it work."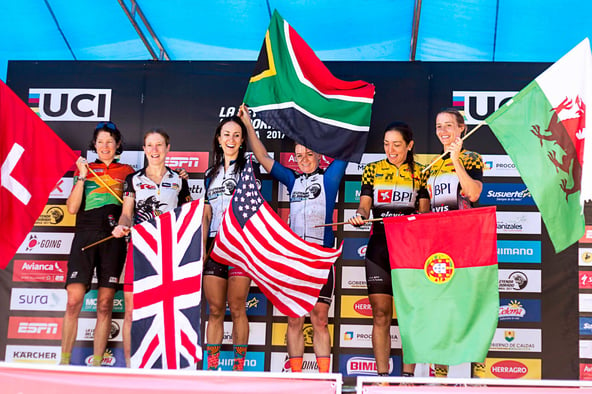 Is that what you eat during races, too?
"I've pretty much been using GU Energy since the beginning of my career because I liked the way it tasted. I'm a heavy sugar burner, so Gu Roctane is my go-to with some water to help with digestion (people complain of digestive issues, but a lot of the time it's because they don't have enough water). It also has amino acids in it – in long races there can be muscle break down, which it helps to prevent.
"There are a couple non-Roctane gels that I cycle in because I love them so much: the Toasted Marshmallow and Salted Caramel. I pretty much cycle through all the flavors.
"Some people forget to eat during races, so finding a flavor that you love can be motivating in that sense. But ultimately, when it comes down to nutrition it's about the product, and that product has served me well throughout my entire career."
Why did you decide to test with InsideTracker?
"Actually, I found InsideTracker through my partnership with GU, and I was extremely interested in testing. As a Canadian, I can get my blood tested regularly under our health insurance, so I was already getting quarterly blood work. I was also meeting with a naturopath, so it was cool to find InsideTracker because I could see what my recommended biomarker levels were as an athlete, because our levels are so different from the general public's – athletes are fine-tuned machines. "
How did the way you used that bloodwork data change once you came onboard with InsideTracker?
"Honestly, my results came back and confirmed that mostly everything was how it should be. What stood out most were my markers of inflammation. So I met with a sports physiologist to discuss that. I also had higher levels of DHEAS. I did more research on that because I didn't know much about it, and my naturopath told me it acts as a hormone reserve (which I need as an ultra-endurance athlete). It's really an education tool for me for the long-term; it's really helpful to have as many data points as possible to have a clearer understanding of the overall picture."
If someone was thinking about switching to a plant-based diet, where would you say is a good first place to start?
"Find someone that's already doing it – whether it be a cook or a doctor or whoever you look up to – and connect with them. Find cookbooks you like and eat a diverse diet. I have an app called The Daily Dozen by NutritionFacts.org and it has how many servings of fruits, vegetables, legumes, grains, etc. you should have in a day. It has exercise and water too; it's just a checklist for an optimal diet. Engine 2 Diet has a really cool Facebook community and I have a Facebook group as well. Having community is super helpful; you can share recipes, if you get stuck you can just ask – it's access to information."
What are your top tips for endurance and cycling?
"People often underestimate the power of the mind and they spend all this time on aerobic capacity. But I would say the mind is more important than your physical ability. You have to train, of course, but the mind can overpower the body. It's what stops you and slows you down over a long period of time because your mind starts telling you 'I can't do this.' You have to learn how to separate yourself from those feelings.
"People should check out my podcast because it's about mindset, but I especially attribute a lot of my 24-Hour World Championship to my mind. After all, at the World level, everybody's good. Everybody is a really crazy endurance athlete. What sets you apart when you have to ride your mountain bike for 24 hours straight is being able to handle that mentally, handle the ups and downs, and have the patience to get through something like that. You should be focusing on your process and smaller goals during the race. Focus on doing your best that day, and putting in a performance that you can be proud of."
Be sure to follow Sonya's journey on Instagram @looneysonya, and check out her podcast, The Sonya Looney Show.
Learn how your biomarkers affect your body in this FREE e-Book download!
Some other blog posts we think you'll love: