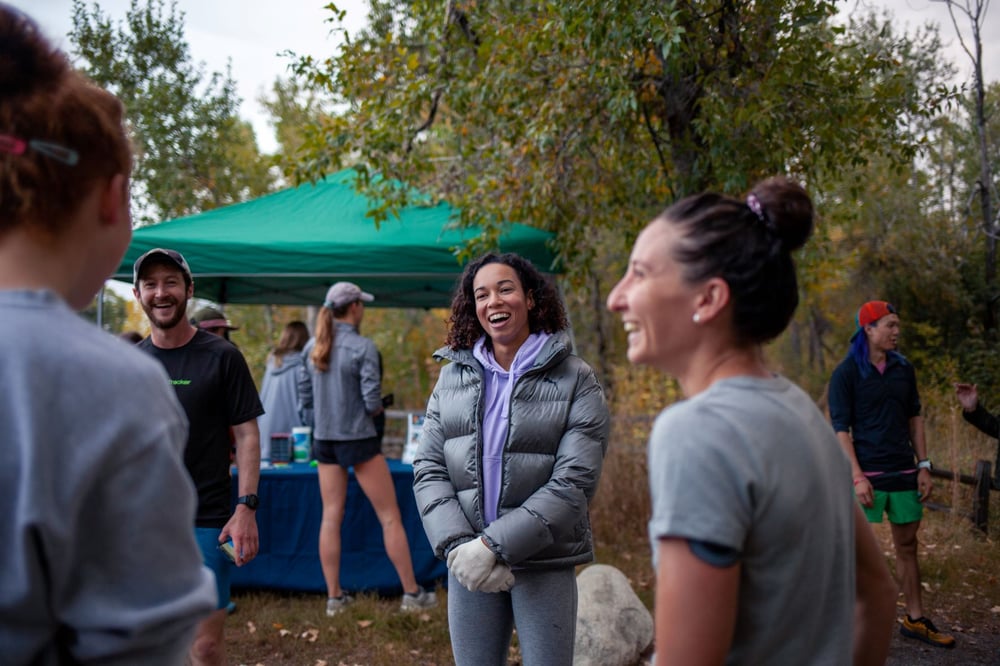 2020 upended our daily lives, and 2021 offered a slow but tangible return to reality. And though some challenges of the past couple of years still linger, 2021 proved to be an incredibly special year at InsideTracker. We were finally able to (slowly...) reconnect with our community in person. We continued to strengthen our community online. And we added new science, data insights, and integrations to the InsideTracker system to create the most reliable and robust version of the InsideTracker system to date. 2021 was a year for the record books at InsideTracker—and for our users.
The InsideTracker data science team doubled in size—and your insights and recommendations benefitted
We added over 700 new studies to the InsideTracker system
Research on new topics is constantly being published, and research on existing topics is constantly being updated. In 2021, InsideTracker scientists diligently read and reviewed thousands of peer-reviewed articles with relevant findings to human health. As a result, InsideTracker insights and recommendations are more robust than ever before.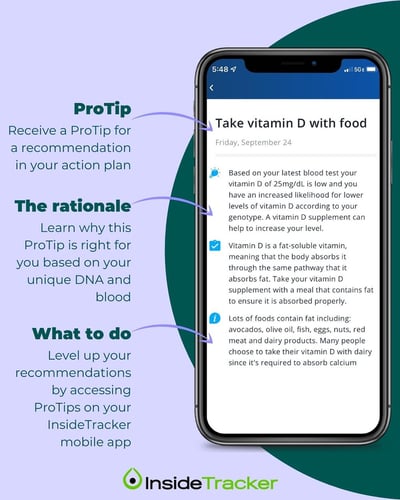 We added over 400 new ProTips to the InsideTracker app
In 2020, InsideTracker released ProTips, daily nuggets of laser-focused recommendations tailored to your latest activity tracker data. In 2021, we added over 400 new ProTips to our library to continue to build upon the real-time feedback users receive from the InsideTracker app.
We added dozens of food and supplement recommendations to our algorithm
The supplement and functional food industry is quickly-evolving and often ahead of trends. But not everything that comes to market provides meaningful, beneficial effects. In 2021, InsideTracker scientists reviewed the latest supplement and functional food research to both add dozens of new recommendations (like for collagen, L-theanine, and oolong tea) and update existing ones.
We added a goal for InsideTracker users to optimize gut health
The body of evidence around gut health continued to rapidly expand in 2021–enough for InsideTracker to finally add a gut health goal to the lineup. Now, InsideTracker users can receive nutrition, supplements, lifestyle, and exercise recommendations to improve the biomarkers most closely associated with gut health. The gut also has a strong association with the immune system–and 2021 was the perfect year to prioritize both. Read more about the InsideTracker Gut Health Goal here.
The InsideTracker app received new features and integrations
We released an InsideTracker app for Android
In 2020, InsideTracker released its first-ever mobile app–but it was only compatible with iOS devices. In 2021, InsideTracker developers got to work replicating it for the Android environment. Now, users of both platforms can make the most of their InsideTracker experience through the app.
We launched InsideTracker Pro to help performance and nutrition professionals optimize their practice
Oftentimes, coaches have had to rely on surface-level tools to assess the impact of things like training programs or eating habits on their clients' progress. But these traditional approaches and data sources alone provide an incomplete picture of a client's wellness status and can miss critical signs related to performance, recovery, and even potential injuries. InsideTracker Pro allows you as the coach to monitor your clients' physiological data and provide them with ultra-personalized recommendations powered by InsideTracker. As their coach, you'll receive their results—along with their personalized InsideTracker recommendations to address anything that may be holding them back.
We've added 345 professional partners to the InsideTracker Pro program since March 2021, giving turnkey access to science-backed recommendations based on blood, DNA, and fitness tracker data to thousands of strength and endurance athlete clients. Watch CompTrain's Ben Bergeron explain the massive advantage InsideTracker provides for his coaching, and get more info about InsideTracker Pro here.
We added Garmin integration and insights to the InsideTracker app
For the first time, Garmin fitness trackers are compatible with InsideTracker. As a user, InsideTracker was already giving you a clear, data-driven picture of what's going on inside your body. Plus, you were getting science-based recommendations for positive changes to your nutrition, supplementation, exercise, and lifestyle. By adding data from your Garmin (like sleep duration, REM sleep, deep sleep, and resting heart rate) to your existing blood and DNA data, you'll get even more health analytics and insights. This will make your InsideTracker recommendations even more personalized—and even more effective. Learn more about the InsideTracker-Garmin integration here.
The InsideTracker app home screen got optimized for seamless integration into your daily habits
The InsideTracker app launched for iOS in 2020, and it continued to get updates throughout this past year. On the new InsideTracker app home screen, users can easily view and access their Wellness Score and InnerAge and quickly log things like stress, sleep, and recommendation progress. The new home screen also suggests InsideTracker articles relevant to each user's wellness journey.
In 2021, InsideTracker users returned to competition
We helped Shalane Flanagan chase her big, wild, audacious goals with Project Eclipse
2021 belonged to Shalane. After the announcement of a stacked schedule of fall dates for six major marathons, the Olympic silver medalist and 2017 NYC Marathon winner saw this "total running eclipse" as an opportunity of a lifetime—she would run them all, in extremely quick succession. She set this goal to challenge herself and "to do something that makes others feel they can do anything." With a strong team behind her, including InsideTracker to help guide her nutrition, performance, and recovery, Shalane set out to run six marathons in six weeks: Berlin, London, Chicago, Boston, Tokyo (virtual), and NYC.
Using InsideTracker, Shalane was able to detect a sharp increase in inflammatory biomarkers after the first leg of Project Eclipse, adjust her recovery and nutrition, and prevent sacrifices in her health and performance for the rest of her races. We helped Shalane document her experience in this article, and InsideTracker even partnered with the Olympian to develop the InsideTracker x Shalane Flanagan Panel to test over 20 blood biomarkers focused specifically on endurance and recovery.
We became the Official Performance Nutrition System of the Western States Endurance Run
The "Western States," the world's oldest 100-mile race, is the crown jewel of ultra racing. And though five InsideTracker users have won the race in the past, this year, InsideTracker made its partnership with the race and its participants official. Through this partnership, InsideTracker will continue to promote runners' health, wellness, and athletic longevity through sound, science-based information, and decision-making.
We kicked off Boulder Run Club, a community-based trail running group
2020 made us put a pause on gathering with our community. But in 2021, we finally found opportunities to get together again, and two such times were with our amazing and engaging community in Boulder, CO. With the Boulder Run Club, we were able to organize trail runs led by pros Amelia Boone, Abby Levine, and Amanda Brooks, enjoy meals together, and share deep conversations about performance, training, and recovery with some incredibly inspiring athletes.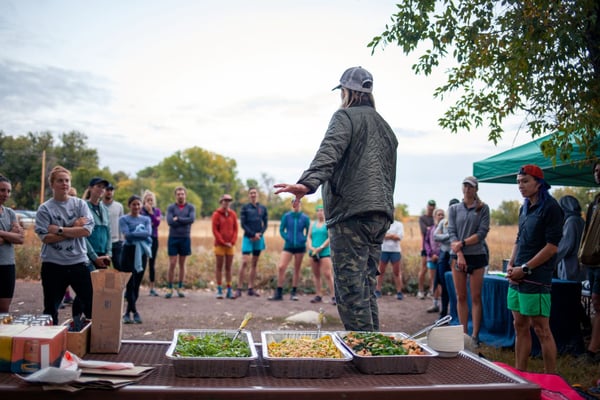 Like in years past, we connected with our virtual community
We launched our official podcast, Longevity by Design
Deep conversations and scientific experts have always been part of the InsideTracker system. But in 2021, we finally let the entire InsiderTrakcer community (and those looking to join it) listen in with the launch of Longevity by Design.
Longevity by Design is a podcast for individuals looking to experience longer, healthier lives. In each episode, InsideTracker Chief Science Officer Dr. Gil Blander joins a co-host and an industry expert to explore a personalized health journey. The show helps listeners access science-backed information, unpack complicated concepts, learn what's on the cutting edge of longevity research and the scientists behind them. And in 2021, we sat down with some of the brightest minds in longevity–like Dr. Andrew Huberman, Dr. David Katz, and Dr. David Sinclair. Listen on Apple Podcasts, Spotify, or Google Podcasts.
We started the Inside Story Video Project with our athlete ambassadors
There's a story behind every InsideTracker athlete. Their struggle. Their successes. Their drive. This year, InsideTracker traveled the country to meet InsideTracker athletes at their home gyms, tracks, and trails to record them in their element and to witness the intimate details of their stories first-hand. Through these travels was born the Inside Story Video Project, a series of nearly 20 in-depth interviews of InsideTracker athletes. From the likes of Tianna Bartoletta and Cole Sager, we saw how elite athletes use InsideTracker to operate at the edge of human performance.
We hosted multiple webinars on endurance and longevity
Throughout the year, we hosted virtual conversations between elite athletes, coaches, dietitians, trainers, and scientists to share the wealth of knowledge found across the InsideTracker community. From improving longevity and performance in endurance athletes to the rise of women in biohacking, our webinar series shined a light on many corners of human performance–and 2022 will bring even more topics to your screens.
And lastly, our users showed changes at the biomarker level in 2021
InsideTracker's data science team looked at our database to pull some of the top user stats from 2021—because this has been a year of growth and change for everyone. Here are some of the user-generated insights from 2021.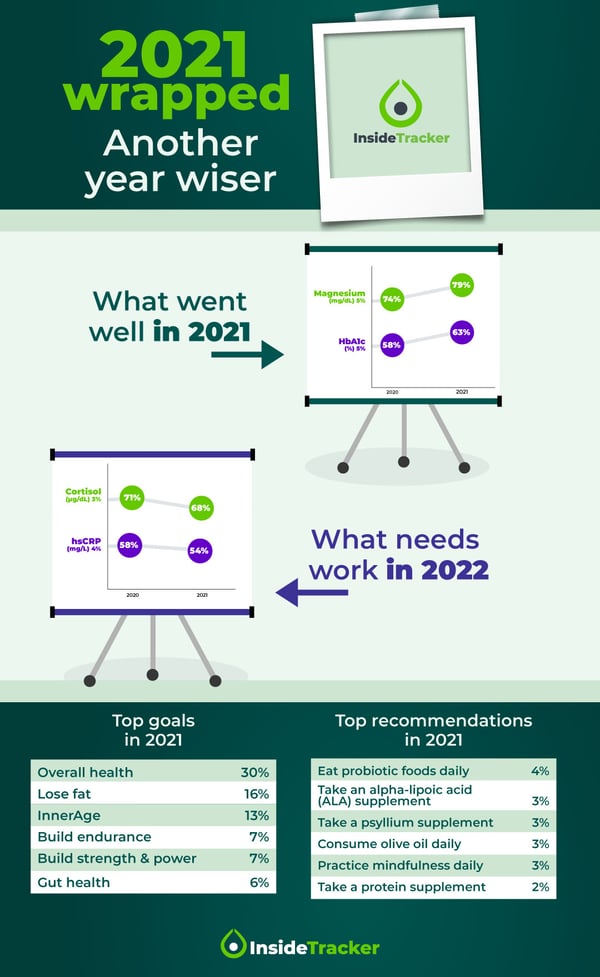 About the biomarkers
Magnesium is a nutrient that plays a role in hundreds of cellular functions, including the production of hormones, such as testosterone, which is important for workout performance. Magnesium is considered a key "anti-stress" mineral because it calms the nerves, relaxes the muscles, and improves sleep. InsideTracker customers were better able to optimize their magnesium levels in 2021, and hopefully contributed to more relaxation this year!
HbA1c represents the average amount of glucose in your blood for the past 90-120 days, and optimized HbA1c is associated with optimal glucose levels and increased longevity. Compared to 2020, the number of InsideTracker customers with optimized HbA1c levels was 5% higher in 2021.
Cortisol is often referred to as the "stress hormone." When cortisol levels are elevated, and stress levels are high, performance and recovery can decline. Our 2021 data shows that fewer customers had optimal cortisol levels, meaning that this year may have come with increased stress.
hsCRP is a general marker of inflammation and a critical indicator of performance and recovery. While some acute inflammation is necessary for the body to grow and repair muscles, uncontrolled inflammation can halt muscle gains. 2021 was tough on inflammation levels—4% fewer InsideTracker customers had optimized hsCRP in 2021 compared to 2020.
InsideTracker exploded in growth in 2021.
2022 will be even bigger.
2021 brought major updates and achievements for the InsideTracker team–and InsideTracker users will continue to reap the benefits. Our data science team expanded significantly, enabling cutting-edge data insights. Our community continues to grow, helping us to connect to a broader network of like-minded people. We continued to work with brands whose missions align with our own. 2021 brought exponential growth for InsideTracker, and 2022 is shaping up to be our biggest year yet.
---

Julia Reedy, MNSP

Julia is a Written Content Strategist & Editor at InsideTracker. She loves to use her experience in cutting-edge nutrition research and writing to spin complex health and nutrition topics into clear, approachable info everyone can relate to. As an inquisitive food shopper, she's constantly reading ingredient lists—and leaving shelves of backward products in her wake.
---